Oreo Truffle Chocolate Chip Cookie Bars
Today was a sad and happy day all at the same time! Our Illinois neighbors threw us a going away party since we are saying goodbye to IL at the end of the month. Sad because we LOVE these friends and hate to leave them behind but happy because we are ready for our new and exciting journey to North Carolina. Since the party was to celebrate our friendship, our neighborhood and our move, I was happy to bring the dessert! I couldn't go out with something ordinary, plain or even a dessert that I've brought to their house in the past, so it was time to step up my game.
When I saw these Oreo Truffle Chocolate Chip Cookie Bars from Crazy for Crust, I knew I hit the jackpot! This was that special dessert that would leave a lasting effect, I just knew it. Plus, since I just returned from the Mom 2.0 Summit conference late last night, I was really happy to see how easy these bars were to make.
If you need a dessert for a summer event or get-together, you have to try these! You (and your guests!) won't be disappointed!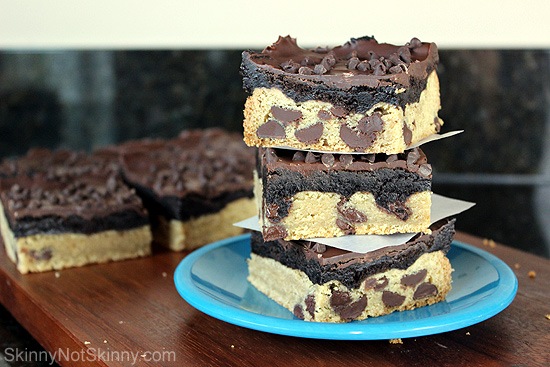 Ingredients:
1/2 cup butter, softened
1/3 cup granulated sugar
1/2 cup brown sugar
1 large egg
1 1/2 teaspoons vanilla extract
1/2 teaspoon baking soda
1 1/2 cups all-purpose flour
1/4 teaspoon salt
3 cups chocolate chips, divided
30 Oreo cookies
4 ounces cream cheese (regular or low-fat)
2 teaspoons shortening
Directions:
1) Line an 8×8″ pan with aluminum foil or parchment paper and spray with cooking spray. This is important for easy removal of the bars!
2) Cream the butter and sugars in a stand mixer (or with a hand mixer!).
3) On low mixing speed, add one egg and vanilla and mix until combined.
4) Add flour, baking soda and salt and mix until dough forms and everything is combined.
5) Stir in 2 cups of chocolate chips.
6) Press into prepared 8×8 pan. Pop the pan into the fridge to chill for 15 minutes.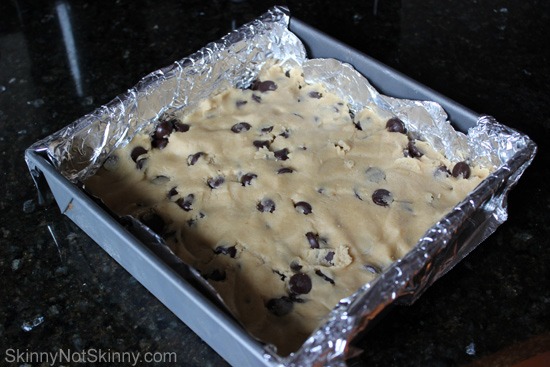 7) Preheat oven to 350 degrees. Bake bars for 21-24 minutes or until top is just golden brown. Cool completely.
8) Blend Oreos and cream cheese in a food processor (my Vitamix worked for this too!) until the mixture is all combined into a ball. Carefully, flatten ball of Oreo mixture into an even layer on top of the cooled cookies.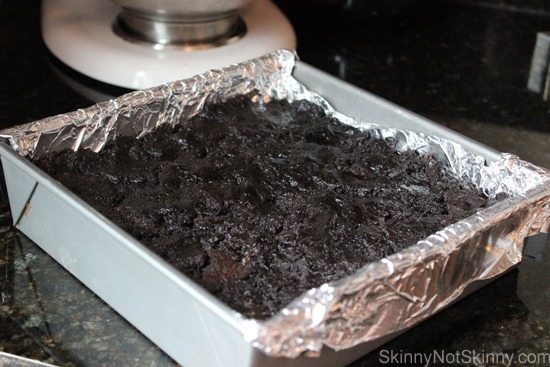 9) Melt 1 cup chocolate chips (I used semi-sweet) with 2 teaspoons of liquid shortening (Crisco) in the microwave on with a double boiler.  Pour on top of the Oreo truffle layer and carefully spread evenly.
10) Chill until the top chocolate layer is set (about an hour). The easiest way to cut the bars is to remove them from refrigerator, carefully lift out the cookie bars and set on a cutting board.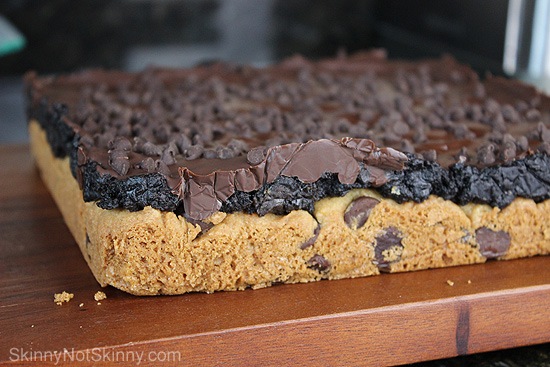 11) With a large knife, cut the bars as big or small as you'd like and enjoy!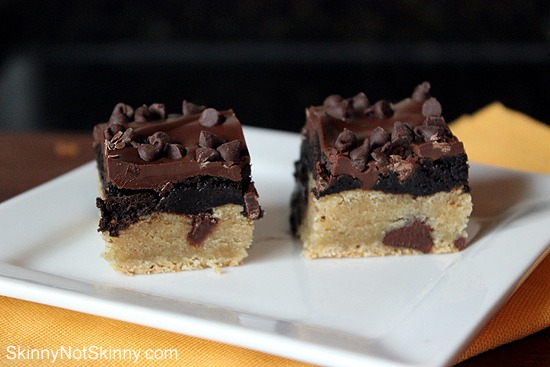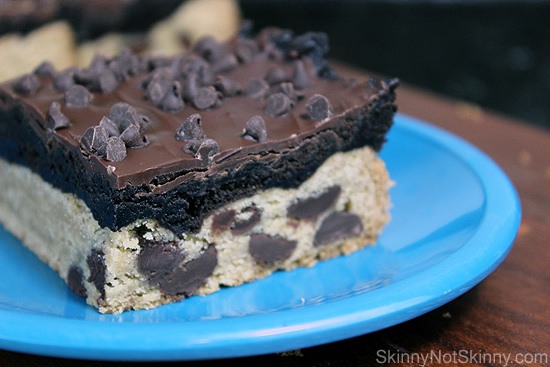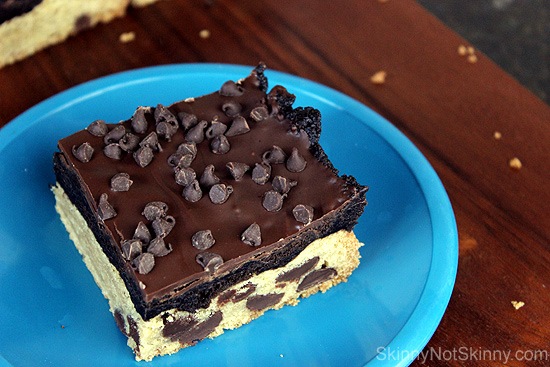 Recipe from Crazy for Crust.