Death by Chocolate M&M Magic Bars
Holiday weekends are my time to shine in the kitchen. For Memorial Day this year, we headed to spend some extra time with family before our big move next month. Like I've said before, there is an unsaid expectation that I will make something fabulously sweet when I'm visiting. It's expected that within 24 hours, there will be a homemade dessert. Not one to disappoint (even though I'm on a healthy eating kick!), I got to work right away. With three ideas ready to go, these Death by Chocolate M&M Magic Bars were my first to tackle.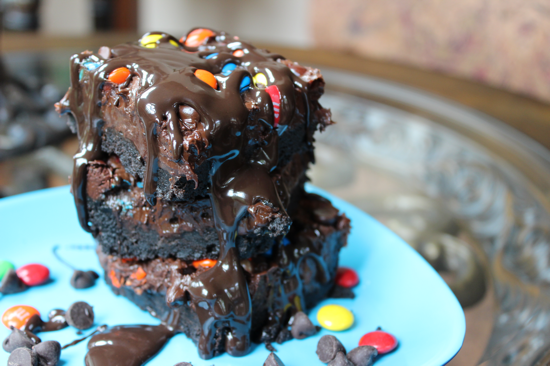 These ooey-gooey bars are super easy to make and so deliciously fabulous that I totally recommend you whip up a batch today. Or tomorrow. Or whenever you need something rich and delicious.
Ingredients:
1 1/2 cups crushed Oreo chocolate cookie crumbs
1/2 cup melted butter
1 can sweetened condensed milk
2 tablespoons unsweetened cocoa powder
2/3 cup Semi-Sweet Chocolate Chips
1/3 cup dark chocolate chips
1/3 cup M&Ms
Preparation:
Preheat oven to 350 degrees and line a 9×9 pan with parchment paper allowing it to hang over the edges for easy removal. You can also grease the pan really well but parchment paper makes is 100x easier.
Combine cookie crumbs and butter and stir until completely combined. Press into the bottom of the prepared pan.
Mix sweetened condensed milk and cocoa powder and pour evenly over cookie crumbs. Top with semi-sweet and dark chocolate chips and M&Ms.
Bake 25 minutes. Let cool completely and cut into squares. Seriously, they need to sit for at least an hour to solidify so they are easier to cut and serve. Enjoy.
*Serve with hot fudge and ice cream to make it an over-the-top dessert.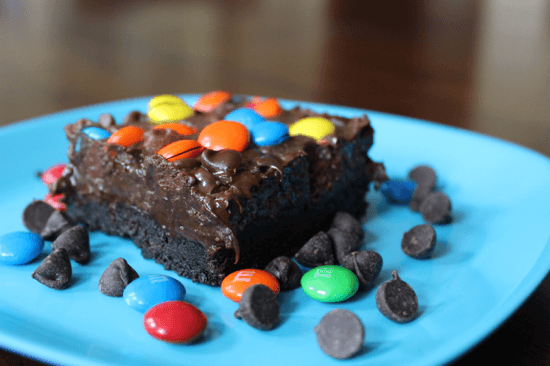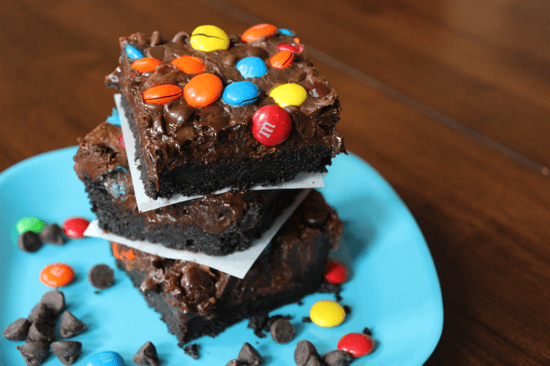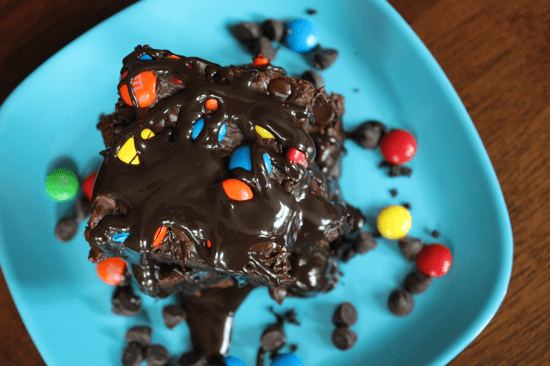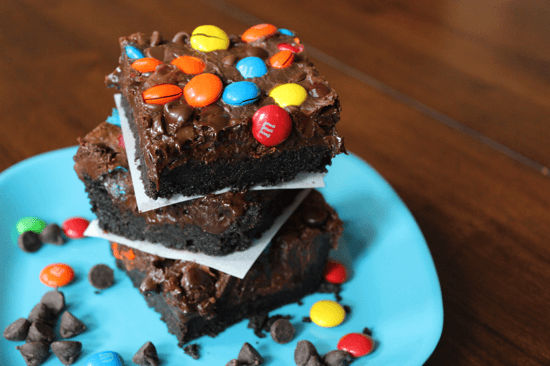 *Recipe adapted from Spend with Pennies.