Dark Chocolate Caramel Pretzel Cookies
Last weekend, it felt like a bake-off at my parent's house. Sure, I was the only one participating and I kept trying to top my own desserts, but it was a "bake-off" nonetheless. Between the swimming, BBQing, Death by Chocolate M&M Magic Bars and Turtle Magic Bars, someone said, "where are the cookies?" That's right, while the bars were delicious, they clearly needed cookies and who was I to disappoint.
So, I headed to the kitchen to whip up something amazing. I always make regular chocolate chip cookies, which are a favorite with my family, but I wanted to mix it up a bit. Our lives are completely crazy right now with moving cross country, summer break starting and anticipation of staying at my parent's house for 2 weeks while we wait for the house to be finished, so I can't just do ordinary. I had to do extraordinary and that is when I headed to the pantry to gather up some of my favorite cookie ingredients.
I started with a basic cookie dough but added dark chocolate chips, caramel bits, and my secret weapon – crushed pretzels. Plus, I topped it off with a sprinkle of sea salt because my sister just wouldn't stop talking about how great sea salt is on desserts. Turns out that was a great move on my part!
Okay, enough chatter! Let's get to making Dark Chocolate Caramel Pretzel Cookies!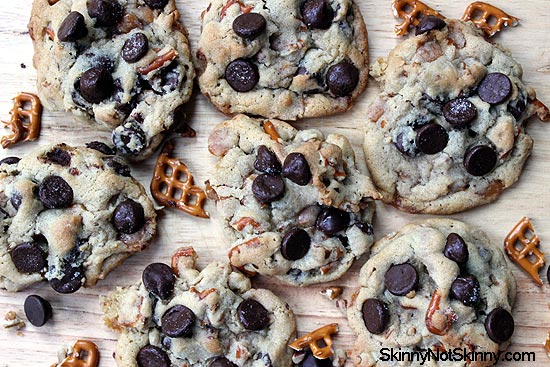 INGREDIENTS:
1 cup butter (2 sticks), softened (NOT melted)
3/4 cup sugar
3/4 cup brown sugar
1 tsp vanilla
2 eggs
2 1/2 cups all-purpose flour
1 1/2 tsp baking soda
1 tsp salt
1 cup crushed pretzels
2 cups dark chocolate chips
1 cup Kraft Caramel Bits
Sea Salt
PREPARATION:
1. Preheat oven to 375 degrees.
2. Combine butter, sugars and vanilla and mix well in a stand mixer. Add one egg as a time mixing after each addition.
3. In a separate bowl, sift together (or basically just mix!) the flour, baking soda and salt.
4. Slowly add flour mixture into the butter, sugar, vanilla and egg mixture and mix well.
5. Add in dark chocolate chips, caramel bits and crushed pretzels and mix well by hand.
6. Scoop cookie dough onto a baking sheet (I covered my with parchment paper for easier removal). Sprinkle with sea salt.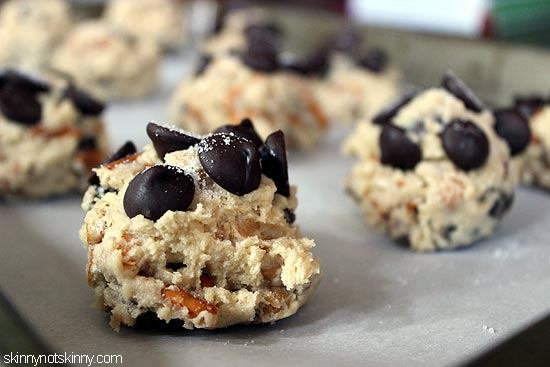 7. Bake for 9-10 minutes.
8. Let cookies cool slightly (about 5 minutes) on the tray before removing. You will thank me for this tip because otherwise the caramel bits will stick to the tray and you will end up destroying your beautiful cookies by scraping them off the pan.
9. Enjoy. These cookie are ahhh-mazing!