I'm going to be honest, I am on a roll this weekend. I haven't made too many treats since returning from Hawaii in February and jumping feet first into a healthy eating kick. I caught a glimpse of myself in a swimsuit on video that trip and it wasn't good. Clearly, this Memorial Day weekend is different. I've whipped up three ahh-mazing desserts for the family to enjoy poolside and during our weekend BBQs.
Today's tasty treat was Magic Turtle Bars and these are super easy to make. A cookie crust with tons of turtle goodness all in one pan.
Ingredients:
2 cups crushed vanilla wafer cookies
1/2 cup butter melted (1 stick)
2 bags semi-sweet chocolate chips
1 bag Kraft Caramels (chopped)
2 cups coarsely chopped pecans
1 cans sweetened condensed milk
Preparation:
Preheat oven to 350 degrees.
Line a 9×13 pan with parchment paper or lightly spray or grease.
Combine crushed Oreo cookies and butter till combined and Oreo crumbs are moist. Spread evenly in bottom of pan, pressing down to form a crust.
Unwrap caramels and cut the squares into smaller pieces. I cut each square into four pieces.
Layer one bag chocolate chips evenly over crust. Top with the caramel pieces and pecans (save out about 1/4 cup for the top). Next sprinkle the second bag of chocolate chips and remaining pecans.
Drizzle sweetened condensed milk evenly over the entire pan, and try to make sure to cover all the nooks and crannies.
Bake for 28-30 minutes, just until condensed milk begins to turn golden. Let cool completely before cutting.
Store in airtight container. These bars are amazing served with vanilla ice cream.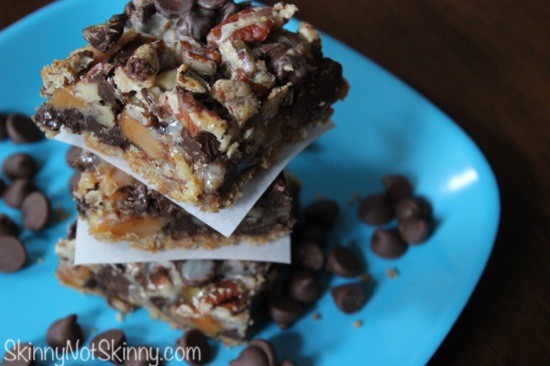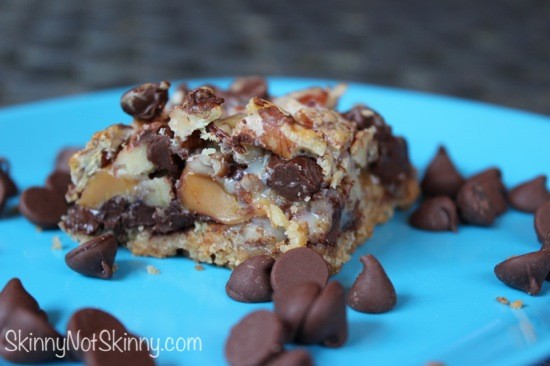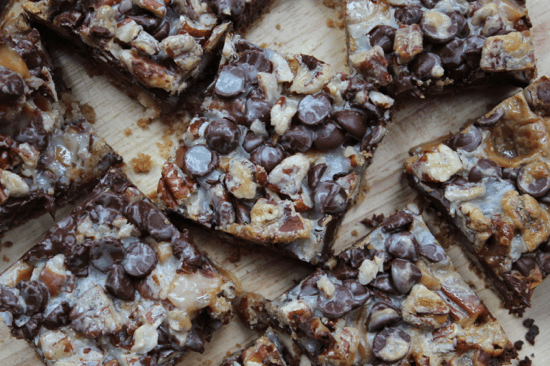 *Recipe adapted from Chocolate Chocolate and More