Once upon a time I was low on grocery money and high on random pantry ingredients and fridge leftovers. Often times this will result in breakfast for dinner or a mix and match meal. But, one night, the magic must have flew into my kitchen because something truly wonderful occurred. It's called Cast Iron Enchilada Bake and it's now a regular rotation on our list of favorite meals!
Of course you can start this meal from scratch, but if you're wanting to piece together leftover I started with …
Leftover Rice. The kind you scoop from the rice cooker thinking you'll finish it later, but then it gets kind of crunchy and deserves to be thrown away. This recipe totally revives garbage worthy rice.
Fajita Filling. From this recipe for Oven Fajitas.
Homemade Salsa. From this recipe for Black Bean Salsa.
Refried Bean. Canned or the kind you make in a crockpot.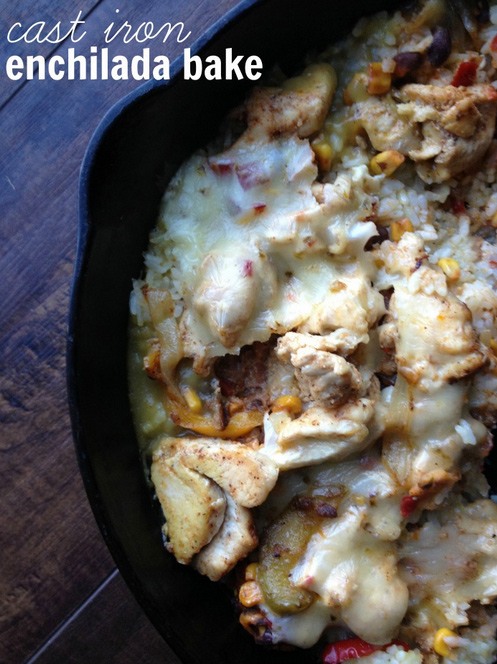 Cast Iron Enchilada Bake
Ingredients
1 large can green enchilada sauce
2-3 cups of leftover white rice
1-2 cups refried beans
Fajita leftovers which consisted of roughly 2 chicken breasts (seasoned with Mexi spices, chopped into stripped and baked) and baked or grilled peppers and onions
1-2 cups of salsa – any kind you like here, we love our homemade version or Trader Joe's Cowboy Caviar Salsa
3/4 cup pepper jack cheese, shredded
Directions
On the bottom of a large cast iron pan drizzle enchilada sauce. Use a spatula to spread it around and create a 1/4 inch base layer so your end product doesn't stick.
Layer rice, beans, fajita leftovers and salsa until you run out and/or fill the cast iron.
Pour the remaining enchilada sauce on top. It may look like a lot but the rice will absorb a good deal of it in its' revival process.
Top with pepper jack cheese.
Bake at 375 degrees for 20-30 minutes.
So, sometime soon – add an Asian rice dish like this to your menu, then Oven Fajitas and then … you've got just about everything you need for this yummy spin on leftovers! Enjoy!