Stuffed Marshmallows & Marshmallows on a Stick
It's Spring Break this week and that means playdates galore. I have been trying to think of activities to keep these kids busy and today was all about marshmallows.
The kids were super excited about making Marshmallows on a Stick. Talk about super easy and this activity leaves everyone with a snack at that end. The great thing about Marshmallows on a Stick is that you can have the kids decorate them with whatever you have on hand. Since it was a 7 year old playdate today, I decided to go over the top and offer a smorgasbord of toppings which included: crushed Oreos, crushed graham crackers, mini M&Ms, three kinds of Spring sprinkles, chopped walnuts and chopped Reeses.
Then I had to take it a step further and make a few Giant Stuffed Marshmallows with those cool Campfire Marshmallows that I picked up at the store lately. Those giant marshmallows are perfect for stuffin'!
Marshmallows on a Stick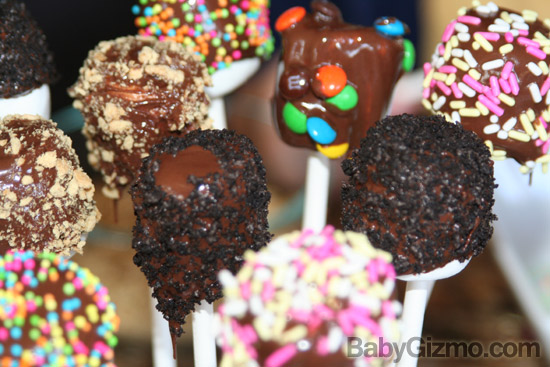 Ingredients:
Large Marshmallows
Popsicle Sticks or sucker sticks
1 cup melted Chocolate depending on how many you plan to make (I used semi-sweet Nestle Chocolate Chips)
Toppings
1) Melt the chocolate chips (or whatever type of chocolate you chose!) in the microwave. I added just a bit of oil (like 1/2 tsp) to the melted chocolate to thin it out a bit to make it easier to dip the marshmallows in.
2) To make it a real activity, display all the toppings in individual bowls smorgasbord-style in front of the kids. The little girls at the playdate kept telling me it looked like a "candy shop". Awww…they were just trying to get a taste, I'm sure.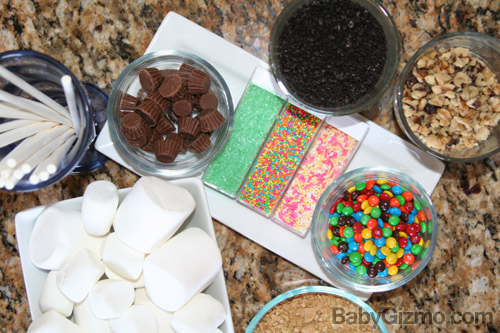 3) Have the kids put one marshmallow on each stick.

4) Carefully dip the marshmallows in the melted chocolate.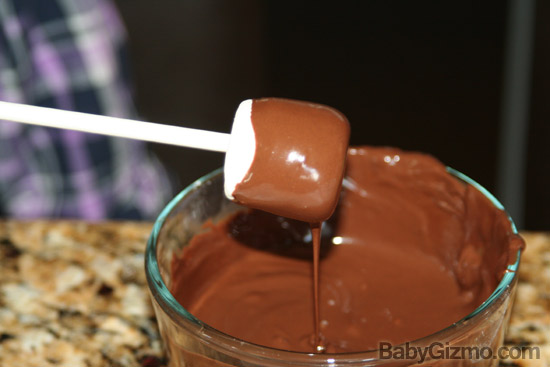 5) Roll the chocolate dipped marshmallow in a topping or sprinkle the topping while rotating the marshmallow over a bowl.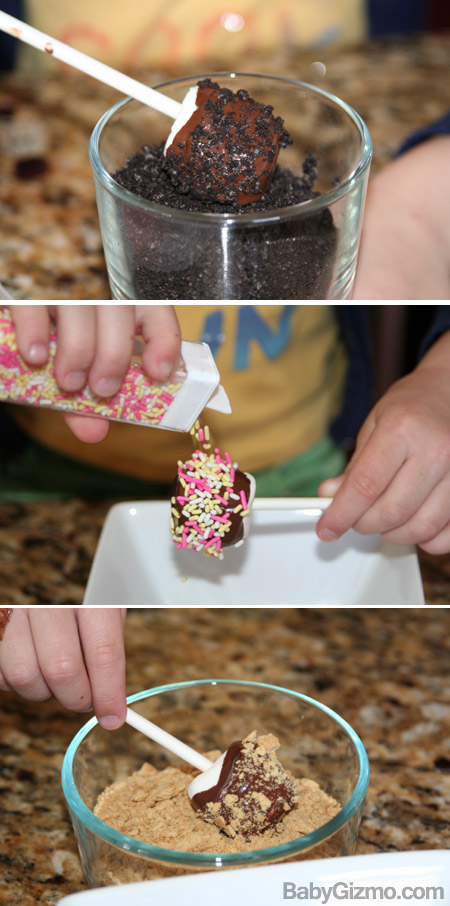 6) Prop the decorated marshmallows up in a cup, vase or other container to keep them separated. Place in the refrigerator to chill the chocolate. I found keeping the marshmallows chilled until serving them worked out the best. The outer chocolate layer was set but the inside marshmallow was still soft.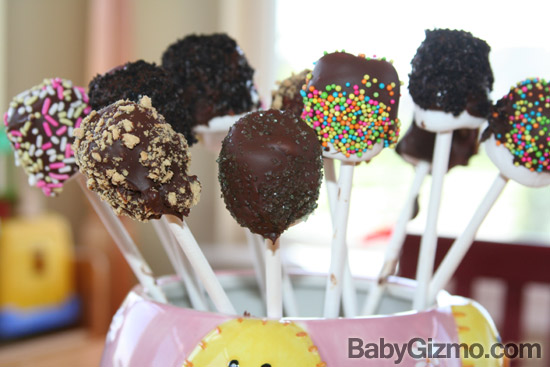 Giant Stuffed Marshmallows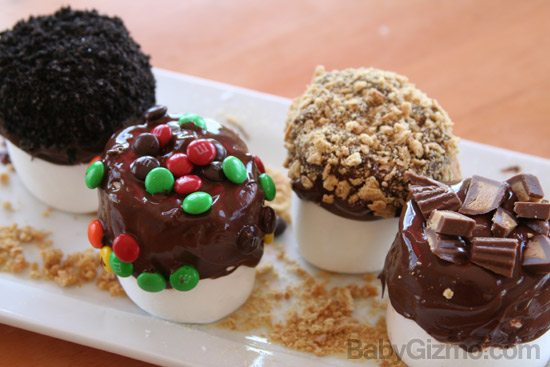 This is where I took the activity a step further. This is a great use for those huge, over-sized marshmallows we all keep seeing at the store. (They are made by Kraft and you find them by all the other marshmallows in the baking aisle.)
1) Take a pair of kitchen scissors and cut out a hole in the marshmallow without going all the way through. With your fingers dig out part of the center but try not to squish the marshmallow too much. This isn't easy to do but if you sprinkle some powdered sugar on the marshmallow where you are digging out the hole, it is less sticky therefore easier to handle.
2) Stuff the marshmallow with whatever you want. I was going for a variation of a reverse s'more with a peanut butter twist.
3) We stuffed one of those mini Reese's (not the snack size but the tiny Mini Reeses from a bag of unwrapped Reeses Minis) in the marshmallow and pushed it down as far as we could.
4) Then we topped the Reeses Mini with as much graham cracker crust as we could stuff in there.(Graham cracker crust = 1/2 cup crushed graham cracker + 1/2 TBSP melted butter + 1/2 tsp sugar)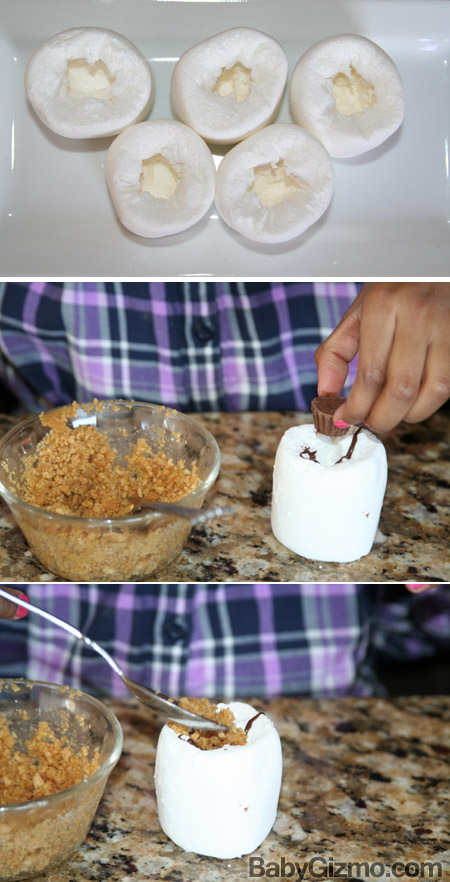 5) Cover as much of the marshmallow with melted chocolate. Chill. Enjoy.