Spider Infested Halloween Cookies
Don't miss another fabulous recipe! Follow us on Facebook for yummy recipes everyday!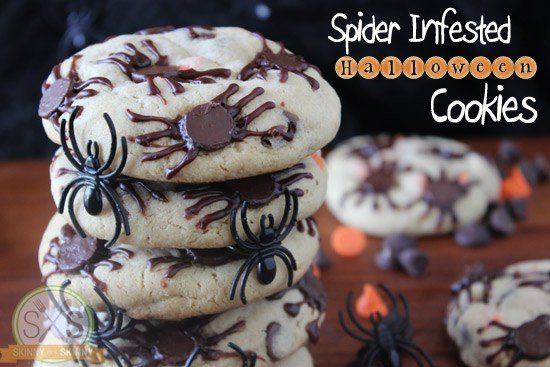 Normally there is nothing cute, adorable or good about spiders. They are creepy. They are gross. They are usually unwanted.
Until Halloween time that is…
Halloween time rolls around and things that are creepy become cool. Things that are gross become chic. Things that are disgusting become normal.
That's why when I saw these Spider Infested Cookies, I knew I had to make them. I just had a sneaky suspicion that my kids would absolutely love them. Ask them to step on a teeny-tiny spider at home and things get ugly. Ask them to gobble down a plate of Spider Infested Cookies and they are totally down with it.
See, told you. Spiders are the "in thing" in October.
When I saw these cookies, I knew that I needed to make a big, fat, soft cookie to give these the look that I was going for. I decided Pudding Cookies were perfect. They would rise enough to give it that thick cookie look and soft enough to be delicious. I'm not a huge fan of crunchy cookies! Plus, it doesn't hurt that pudding cookies are so easy to make!
Spider Infested Halloween Cookies
Ingredients:
3/4 cup (1 1/2 sticks) butter, softened
3/4 cup brown sugar
1/4 cup granulated sugar
1 (3.4 ounce) package instant vanilla pudding
2 eggs
1 teaspoon vanilla
1 teaspoon baking soda
2 1/4 cups all-purpose flour
2 cups Halloween chocolate chips
1 cup Dark Chocolate Chips
Betty Crocker Cookie Icing
Preparation:
1. Preheat oven to 350°F.
2. Combine flour and baking soda and set aside.
3. In a large bowl, cream together butter, brown sugar, granulated sugar and vanilla pudding mix.
4. Beat in eggs and vanilla.  Add flour mixture until combined.  Stir in Halloween chocolate chips.
5. You want these to be big cookies so that you can get at least 4 spiders on them. Roll into 2″ balls and place on a greased baking sheet.  Take 4-5 Nestle Dark Chocolate Chips and press them into the top of each cookie. You want the Dark Chocolate Chips because they are bigger than the semi-sweet and work best for the spiders' bodies.  Slightly flatten with your hand.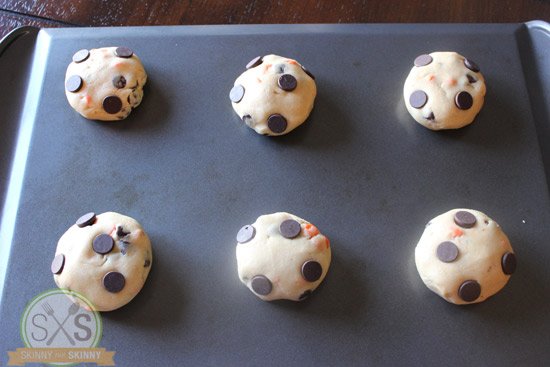 6. Bake for 12-14 minutes, or until golden brown.
7. Remove from oven and cool completely.
8. Using the Betty Crocker Cookie Icing, carefully draw eight spider legs around each big chocolate chip.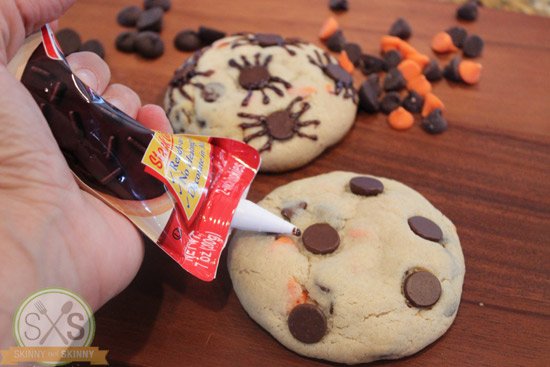 9. Let the icing set. That's it! Spider Infested Halloween Cookies!