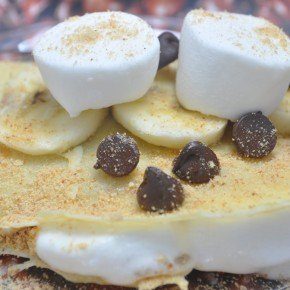 I don't think I have ever met a person that doesn't love S'mores! I was never a girl scout or made them in the woods by a fire so this is my version of a s'mores. I love crepes, savory or sweet, you name and it I will eat it. We are fortunate enough to live by a little place in town that makes unbelievable crepes. I got the idea for this recipe after looking in my cupboard while remembering the delicious banana Nutella crepe I had the day before.  If you have never had Nutella, you haven't lived. Nutella is the Italians version of peanut butter but they make it with hazelnuts not peanuts…delicious!
You can make this crepe for breakfast, lunch, dinner or dessert (Okay maybe not dinner)! I served them up for the kids on a lazy rainy Sunday and had breakfast in bed…love those mornings! They were so excited to have a little something different in the morning what a treat to have a s'mores and a crepe all on one plate!
I served them up for breakfast and added bananas. You could make them up for dessert or breakfast. You could also use this batter to make savory crepes (omit the vanilla) such as ham and cheese, chicken and broccoli your options are endless.
Ingredients:
1 cup of flour
2 eggs
3/4 cup milk
1/2 cup of water
2 tablespoons of melted butter
1 teaspoon vanilla extract
1/2 cup of marshmallows
1/4 cup of chocolate chips
1/4 cup of crushed graham cracker
2 bananas sliced
Method:
1. In a bowl mix flour, eggs, water, butter, and vanilla.
1. Using a nonstick pan pour 1/4 cup of batter and evenly coat the bottom of the pan with batter.
2. After 30-45 seconds flip the crepe over.
3. Fill one side of the crepe with bananas, marshmallows, chocolate chips and crushed graham crackers.
4. Fold over the crepe and put a lid on the pan for 30 seconds just enough to let the marshmallows melt.
* Makes approximately 6 crepes