Kitchen Mishaps, Father's Day and Lemon Meringue Pie
I don't like to bake.  You already know that about me.  I'm not good at following directions so baking and I don't really get along.  When I cook savory meals, I can freelance!  A dash of this!  A splash of that!  I can do a little dance and twirl all while running through a meadow of daisies!  Ok, maybe not quite that.  But it is freer.  Baking is science.  I'm not very good at science.
My husband is great at following directions.  He reads the instructions that come with Ikea furniture BEFORE he starts assembling.  I know!  When I bake, he stands over me making sure I am following the recipe exactly.  The only reason this isn't annoying is because I can – no, no – will leave something out or screw up a measurement.
As one of the many little special things Sweet D and I are doing for him for Father's Day, I promised to make him one of his favorite things: Lemon meringue pie.  He came into the kitchen to check on me as I made the filling and I pointed out how careful I was being to follow directions.   He laughed and kept moving, leaving me to his pie.
I followed the recipe exactly.  Exactly.  As it came time to make the meringue topping, the recipe said to whip the egg whites until they had stiff peaks, add the sugar, and whip some more.  As I did this, I thought to myself that there was something else you're supposed to add for a good fluffy meringue and there is something you're supposed to do when adding the sugar.  The recipe didn't say so I didn't do it.  I've made meringue before — I should've known better!  Argh!
And my meringue fell.  Once fluffy with stiff peaks, the sugar killed it.  I added it to the pie anyway and baked it.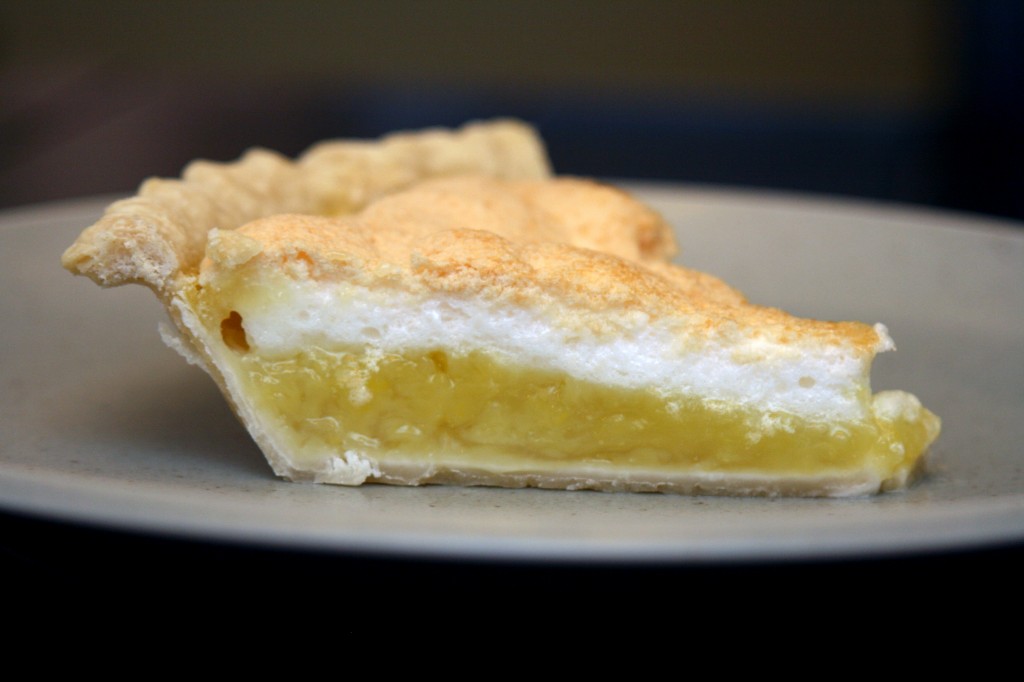 The pie was delicious and my husband was very happy with it.  Really.  It just didn't look right and it didn't have that light fluffiness that it should've had.  I was bummed.  It was supposed to be his special Father's Day pie.  But he assured me that he loved it (oh, he's incapable of lying… for better or for worse) and that it tasted great despite my flat meringue.
So what did the meringue need?  A pinch of cream of tartar while whipping.  And the sugar should have been added very slowly while continuing to beat the egg whites.
Kitchen mistakes happen to the best of us.  I thought about making another one for the purpose of this post, but I thought that would've been lying in a way.  I screwed up!  But my screw up still tasted fantastic.
Happy Father's Day to my wonderful husband.  When Sweet D can talk, she'll thank you for being amazing.  For now, I'll do it for her.
And happy Father's Day to all the other dads out there!
Lemon Meringue Pie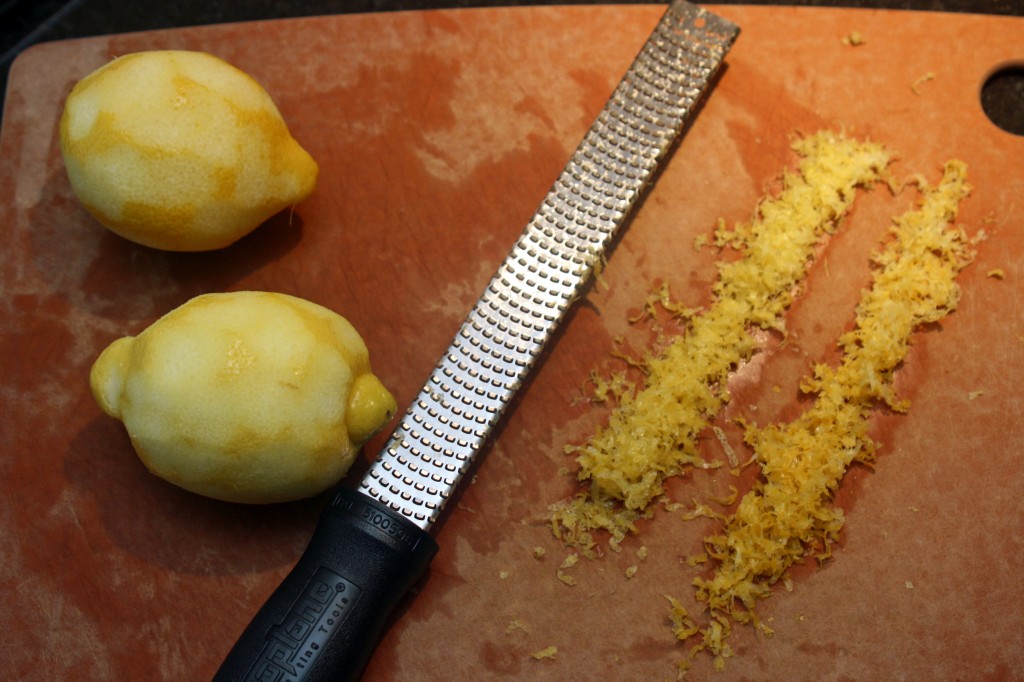 I used a store-bought crust for this pie.  No shame in that!  Sometimes I do
make my own crust
, though.  If you have the time and the energy, go for it.  It is definitely better.
Whether you use a store-bought crust or make your own, you need to pre-bake it for this pie.  Preheat your oven to 350.  Prick the crust on the bottom several times so it doesn't puff up.  Put some parchment paper in the bottom of the crust and put some dried beans or pie weights on top to keep it from rising.  Dried beans work great for this; just don't try to cook them later.  Bake for about 15 minutes.  Remove from the oven and remove the parchment paper and beans.  Allow to cool before filling.
3 tbsp cornstarch
1 1/4 cups water
2 lemons — juice and zest (the yellow part of the rind)
Sugar separated into 5 tbsp and 4 tbsp
2 eggs separated
1. Mix the cornstarch with a little bit of the water just to make a slurry.  Put the remaining water into a saucepan.  Add the lemon juice, zest and cornstarch.  (PS — If you don't have a microplane for zesting, a cheese grater would work ok.  Microplanes are great, though, so maybe think about adding it to your kitchen!)  Bring to a boil while stirring.  Cook for 2 minutes.  You want the cornstarch to reach its full thickening power.  Remove from the heat and allow to cool a little bit — not completely.
2. Add the 5 tbsp sugar.  SLOWLY add the egg yolks while constantly whisking.  If you add them too quickly without tempering them they will cook!  No one likes lemon scrambled egg pie.
3. Pour into the pie shell.
Meringue Topping:
2 egg whites (from the eggs used in the filling)
pinch of cream of tartar
4 tbsp sugar
1. Put the egg whites and a pinch of cream of tartar either into a mixing bowl or into the bowl of your stand mixer.  Beat the egg whites until they are thick and have soft peaks.  Once it is thick enough, slowly add the sugar while still beating.  Beat for a minute or two until it forms stiff peaks.
2. Add the meringue onto the top of the filling.
3. Bake the pie at 300 for 40 minutes.
4. Remove from the oven and allow to cool completely.  Once it is cooled, it is best if you allow it to chill in the fridge for a bit so the filling can set.
5. Enjoy!  (Rest assured that even a flat meringue still makes a good pie.)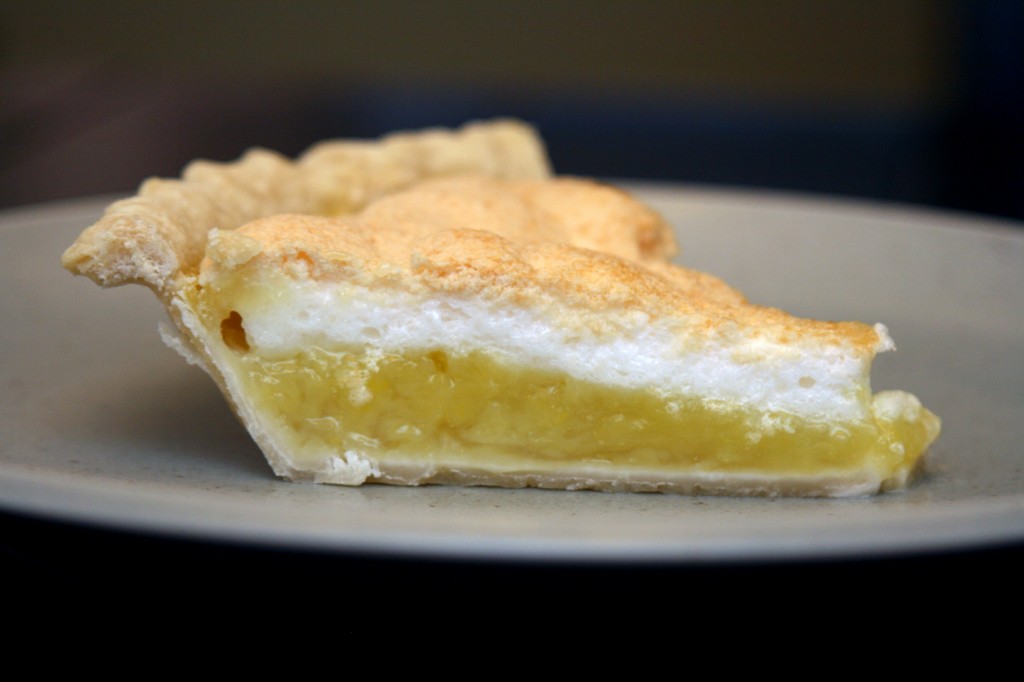 Kitchen Mishaps, Father's Day and Lemon Meringue Pie
Ingredients
3

tbsp

cornstarch

1 1/4

cups

water

2

lemons -- juice and zest

the yellow part of the rind

Sugar separated into 5 tbsp and 4 tbsp

2

eggs separated

2

egg whites

from the eggs used in the filling

pinch

of cream of tartar

4

tbsp

sugar
Instructions
FILLING: Mix the cornstarch with a little bit of the water just to make a slurry. Put the remaining water into a saucepan. Add the lemon juice, zest and cornstarch. (PS -- If you don't have a microplane for zesting, a cheese grater would work ok. Microplanes are great, though, so maybe think about adding it to your kitchen!) Bring to a boil while stirring. Cook for 2 minutes. You want the cornstarch to reach its full thickening power. Remove from the heat and allow to cool a little bit -- not completely.

Add the 5 tbsp sugar. SLOWLY add the egg yolks while constantly whisking. If you add them too quickly without tempering them they will cook! No one likes lemon scrambled egg pie.

Pour into the pie shell.

MERINGUE TOPPING: 1. Put the egg whites and a pinch of cream of tartar either into a mixing bowl or into the bowl of your stand mixer. Beat the egg whites until they are thick and have soft peaks. Once it is thick enough, slowly add the sugar while still beating. Beat for a minute or two until it forms stiff peaks.

Add the meringue onto the top of the filling.

Bake the pie at 300 for 40 minutes.

Remove from the oven and allow to cool completely. Once it is cooled, it is best if you allow it to chill in the fridge for a bit so the filling can set.

Enjoy! (Rest assured that even a flat meringue still makes a good pie.)