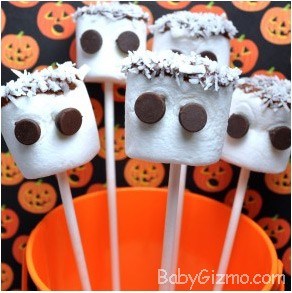 We love Halloween at our house! My son made me purchase his third Spiderman costume in early September just in case they sold out of them. My daughter by default of having a bigger brother that loves everything Spiderman is going to be spider girl.  She would prefer the hulk costume but I don't think she would forgive us when she looks at the pictures when she gets older.
I came up with this simple recipe by looking in the cupboard with Halloween on my mind.  The Ghost Pops are super simple to make and super cute. I love recipes the kids can make on their own. They love being in the kitchen with me especially when there is chocolate involved. This would be a good treat to bring to Halloween party or have kids assemble them at a party.  You can try a variety of toppings such as strawberries, crushed cookies, graham crackers.  The topping choices are endless. Happy Halloween!
Ingredients:
1 Package of large marshmallows
1/2 cup of chocolate chips
1/2 cup of shredded coconut
1 package of popsicle sticks (optional)
Method:
1. Insert stick into marshmallows.
2. Melt chocolate in 30 second intervals in the microwave.
3. Place two chocolate chips in the center of the marshmallows as eyes.
4. Dip marshmallows in chocolate then coconut.