Afternoon Pick Me Up: Espresso Granita Con Panna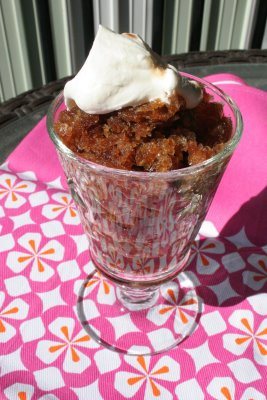 I'm not a huge coffee drinker but every now and again I need a little caffeine jolt. I think every parent can relate to needing a pick me up, especially on those mornings when you've been up all night with a kiddo who just wants to partaay! Anyway, I find myself wanting coffee more in the summertime because I really enjoy it iced. Plain iced coffee is good but my favorite way to have it in the summer is in this Espresso Granita Con Panna.
Granita is a dessert that originated in Sicily and it's made from sugar, water and various flavorings. I really enjoy making it with fresh fruit juice as a frozen dessert for the kids that's much healthier than store bought ice pops. Once you've got the technique down you are free to play around with ideas and create your own recipes. You are only limited by your imagination.
This version was created after I had the pleasure of having it at a cafe in Rome. Before then I never tasted a granita like it. The contrast between the cold, crunchy shaved ice and the creamy, smooth whipped cream is a match made in dessert heaven. This icy, sweet, caffeinated beverage is quick to make and easy to keep on-hand. No more fumbling for the coffee pot during those hazy summer mornings. All you need to do is scoop some Espresso Granita out of the freezer and you are ready to face the day.
Espresso Granita Con Panna
Serves 4
Ingredients:
3 cups of strongly brewed espresso (our fave is Illy fine grind (Red Band)
3/4 cup granulated sugar, plus 2 tablespoons for whipped cream
1 cup, heavy cream
Instructions:
1. Combine hot espresso with sugar and stir until dissolved. Allow to cool completely.
2. Pour the coffee into a 9-inch glass pie plate or any other freezer friendly, shallow container (Tupperware will work too).
3. Place dish into freezer. Every hour and a half, go into the freezer and scrape theGranita with a fork (see image below). The idea is to shave the ice away so that it creates a snowy texture. You will keep doing this every hour and a half (for approximately 4 hours) or until all of the ice is scraped away and what you have left looks like coffee colored snow.