Oreo Crusted Brownie Cupcakes
I was trying to think of something yummy to make for my family over Easter weekend because when we are all together it is the perfect opportunity to have an audience to ohhh and awww over my baked goods. Plus, it is more people to actually eat the desserts instead of my husband and I just stuffing our face.
I took an informal poll and came to the conclusion that most of them liked some kind of crust, brownies, cookies and frosting.
Actually, when I asked my brother what he liked, he grabbed his belly and shook it like Santa Claus and let out his usual "chicken wiiiiinnngggs!"
Yeah, very helpful, bro! How about Oreos?
"Yeah, that'll work too," he mumbled back.
Hmmm…they weren't really all that helpful but I did manage to come up with something.
These Oreo Crusted Brownie Cupcakes are more than just something – they are deeee-licious!  It is the perfect combo. A chocolatey, oreo crust, rich brownie with Oreo pieces and a light whipped cream-type of frosting all in a cupcake size so you don't have to worry about how big or small of a piece to take. Seriously, so good!  The frosting really makes the dessert so don't leave it off!

Oreo Crusted Brownie Cupcakes
Ingredients:
1 package Oreo cookies
5 Tbsp Butter (melted)
1 Family-Size Brownie Mix (+ ingredients needed for that)
1 3/4 cups plus 2 tbsp. whipping cream
3 tbsp. powdered sugar
1/2 tsp. vanilla extract
6 tbsp. Oreo cookie crumbs
24 Oreo Cookie Halves
Preparation:
1) Grease 24 cupcake compartments in 2 (or 4 depending on your size pans) cupcake pans. I don't use cupcake liners so that you can see the beautiful crust on these babies!
2) In a food processor (or however you like to crush things) crush about 24 Oreo cookies until you have 2 cups of finely crushed Oreo crumbs. Mix the Oreo crumbs with the 5 Tbsp of melted butter until completely combined.
3) Measure about a tbsp of cookie crust into cupcake pans filling 24 cupcake holes.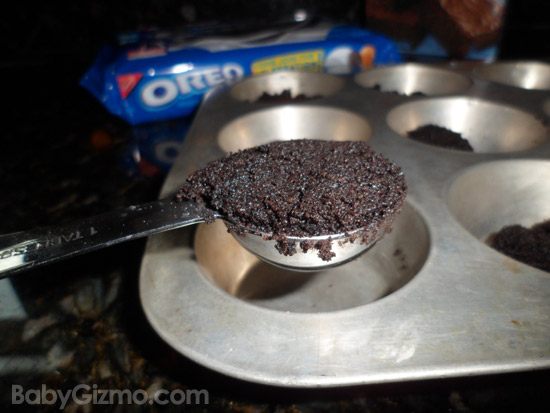 4) Make the brownie mix according to the box. Mix in 3/4 cup of broken (not crushed to dust!) Oreo cookies into the brownie batter.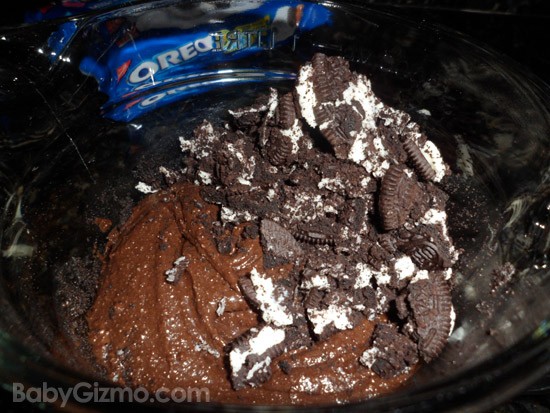 5) Evenly distribute the brownie batter (about a heaping tbsp in each cup) over the cookie crust in all 24 cupcake cups.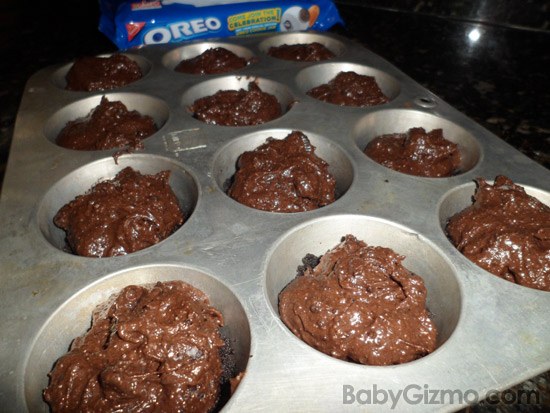 6) Bake at 350 degrees for 22 minutes or until a toothpick comes out almost clean or you can see that the brownies are set.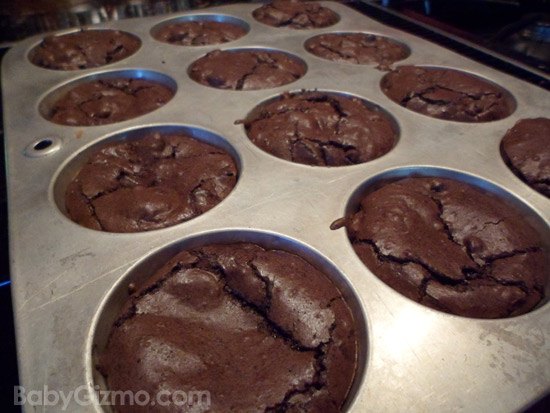 7) Let cool for 10 minutes before carefully removing from pans. Cool cupcakes completely.
8. Make the frosting. This frosting recipe is from Annie's Eats and it is perfect for these brownie cupcakes! In the clean bowl of an electric mixer fitted with the whisk attachment, combine the whipping cream, powdered sugar, and vanilla extract. Beat on medium-high speed until the whipped cream holds stiff peaks. Gently fold in the cookie crumbs with a spatula.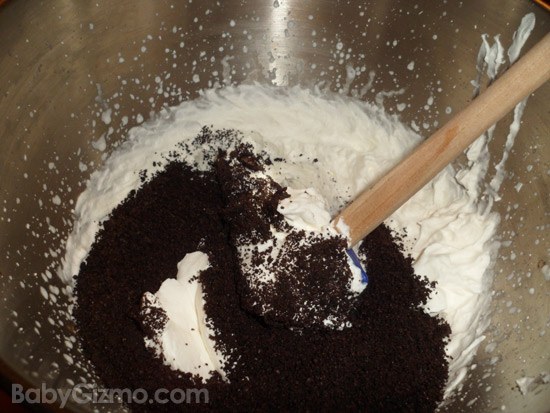 9) Put frosting into a pastry bag with a large round tip and frost the cupcakes to your liking. I used Wilton Tip #12 but you could you frost the cupcakes however you like.
10) Stick a Oreo half in the frosting of each cupcake for a little pizzazz. That's it. Enjoy. With the whipped cream type frosting, I stored my cupcakes in the refrigerator.