I fully believe that eggnog is not solely a Christmas beverage. It's a holiday one. A tasty treat that can last from the day after Thanksgiving through New Year's Day. Well, technically, eggnog is completely acceptable until Starbucks decides that eggnog season is over. Don't you agree?
This year, rather than simply sipping on eggnog beverage varieties I tried my hand at implementing eggnog into a breakfast staple. PANCAKES! Turn plain ol' pancakes into a festive treat by substituting milk or buttermilk for eggnog. Easy peasy. Or, follow this yummy recipe and you'll be looking for eggnog on the store shelves all year round.
EGGNOG PANCAKES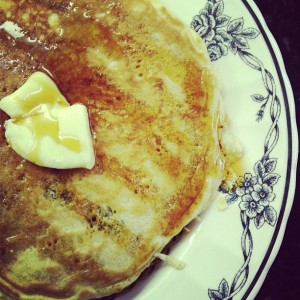 Ingredients
2 cups flour
1 tablespoon baking powder
1/2 teaspoon salt
1/8 teaspoon cinnamon
1/8 teaspoon nutmeg
2 eggs
2 cups eggnog
1/4 cup butter
Directions
Blend ingredients in a large mixing bowl. Scoop 1/3 cup of batter onto well-greased griddle. Cook pancakes on first side for 1-2 minutes or until bubbles appear throughout. Flip and cook for 30 seconds-1 minute. Top butter with a dollop of butter and real maple syrup.