What is Community Supported Agriculture?
Four years ago I somehow managed to convince my husband that we should sign up for a CSA – community supported agriculture.  It was shockingly easy to talk him into it; I suppose he was into the idea of healthy, fresh and interesting meals.  Can't blame the guy!
So what is a CSA?  You pay a fee to a local farm for the season and they give you a box of produce every week.  Every farm is different.  Some farms have different size shares to choose from; some offer fruits and veggies while others just offer veggies; some even have eggs.
Um… can't I go to the store and buy my own produce? I'm a big girl.
Ok, yes you could.  And you are a big girl.  Let me make my case here by telling you about my experience.
I wanted to join a CSA because it sounded cool.  Yeah, I said it.  In my circle it was the cool thing to do.  I felt like I could handle it and, if I couldn't, we wouldn't join again the following year.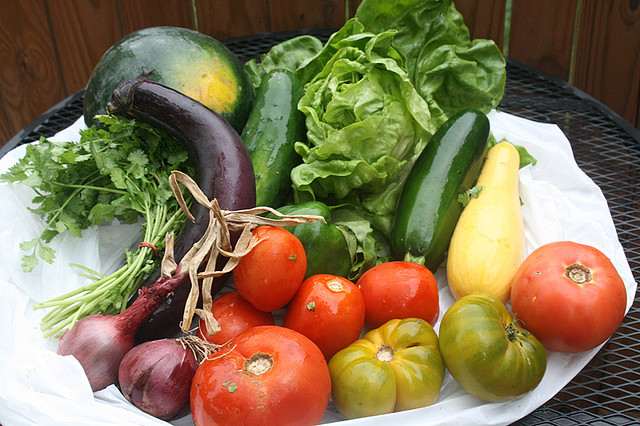 My CSA farm (yes, it is MINE… I called dibs!) charges $464.10 for 26 weeks (May-Nov) of produce – that's about $17.85 per week.  (I get a medium share.  This farm offers a medium and a large.) To be honest, some weeks I probably get less than my money's worth only because the veggies don't really cost that much (like lettuce).  But in mid-summer, I get WAY more than $17.85 worth of produce.  My boxes are overflowing (literally!) with tomatoes, melons, eggplants, and cucumbers.  And in November I get huge butternut squashes that also bring the value of the box way up.  Because I was already a farmers' market shopper, $17.85 ends up averaging out to be a bargain for me.
Here's the question everyone always asks: Can you pick your produce?  Because my son/daughter/husband/mother-in-law doesn't eat eggplant/tomatoes/peppers/anything orange.  Most CSA farms do not let you choose; I know there is one farm in my area that does so there might be one in your area too.  Most don't. But I think that is ok!  (Get ready to be convinced…)
The produce is local.  You're not getting produce from Thailand, you're getting it from your region.  That means you probably won't get anything too wild that you're not already familiar with.
The farms are relatively small – ask for their harvest schedule!  My farm provides a list of their crops.  If you find a farm that works for you, ask and you shall receive.  You can't really know how much of any one thing you'll get, but if you see that they harvest tomatoes for six weeks and your kids can't handle the sight of them you can make an informed decision.  Just don't rule it out until you see the harvest chart.
Challenge yourself.  I can say with total certainty that joining the CSA made me a better cook.  No longer was I in charge; the food was in charge.  (Raise your hand if you're going, "Uh and that's a good thing?!")  I would go to the market and look at my list. Because I had that harvest chart, I always had a general idea of what I would get.  I could then think about what to make and could buy the rest of the food I needed.  Are you ready to have your mind blown?  Foods that taste great together tend to be grown at the same time.  Shocking, I know! Strawberry and rhubarb.  Tomatoes and basil.  Apples and butternut squash.  And you'll find new amazing combos – my favorite discovery from my CSA is that peaches, corn and jalapenos are AMAZING together.   Menu planning when you are eating seasonally is actually easier. (Plus, I'll be to help you!)
Local produce usually tastes better.  As I said, it is ripe.  It is grown by people who give it the TLC it needs.  I have eaten the best tomatoes, carrots, strawberries, and corn EVER from my CSA box.  Plus, all that flavor means more nutrients.  Seasonal produce is more nutritious.  That's not my opinion – that's a true story.
An unexpected benefit of joining the CSA was having a greater connection to my food.  My farm adds a note in my box every week about how the crops are doing and what the farmers and their families are up to.  Like most farms, there is an open farm day where members can visit and actually see the fields where their food grows.  Some CSA farms also have free pick-your-own days for members!  I know that helping little ones understand where their food comes from and connecting them to the people who grow it has helped several of my friends deal with picky eaters.  Pulling a tomato right off the vine makes it look much more appealing.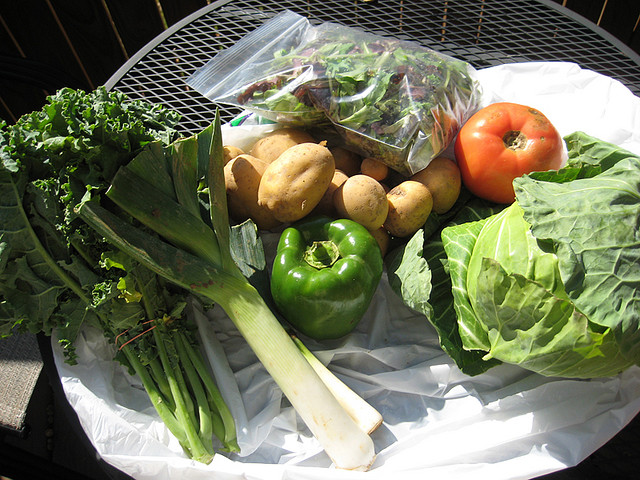 I'll be honest – it isn't all fun and games.  It is definitely more challenging than buying what you need at the store.  Fresh local produce does go bad faster.  It is ripe when you get it which makes it all taste better but that means you have to use it quickly.  I don't let my produce stack up.  I get everything cooked and/or eaten before the next box comes a week later.  I like to call it CSA Scrabble – what can I make that will use as many ingredients as possible?  Salad.  Pizza.  Salsa. All big ticket dishes.  Plus, some stuff can be eaten raw as a snack (cucumbers, tomatoes, berries, etc).  And some stuff can be frozen (the bazillion tiny delicious sweet peppers we get). However I use the produce, I assure you that my produce drawer is empty come Saturday morning when it is time to get my next box.  The only time I let produce go to waste was during my first trimester – no freaking way I was preparing turnips when Peanut M&Ms were calling.
It is also a risk.  You're taking on the same risks that the farmer takes on.  That is, if a tornado strikes the farm and destroys his crops that's as much a problem for you as it is for him (ok, it is more of a problem for him… you know what I mean).  Last year a wet spring meant that the crops weren't able to be harvested on schedule.  We lost a week of produce.  I'll admit that I was pretty peeved, but so it goes.  That's part of the deal.
And most of the time you have to pick up your boxes (some farms deliver).  A big deciding factor in choosing my farm was where members pick up.  My farm comes to my town's farmers' market – perfect!  I love going and I love taking Sweet D.  To me, going to the farmers' market is much more fun than a trip to the grocery store.  For others it might be just another errand so I could see how that could be a downside.
My suggestion: Just think about it.  Joining a CSA isn't the right thing for everyone; I would never pretend like it is.  I can tell you that my husband and I both love it – we've already paid for year four!  I also truly believe that it may be right for you even though you think it isn't.  Check out LocalHarvest.org for more information and a search engine to find a CSA near you.
If you do decide to join, let me know!  And if you need recipe ideas or want to know what the heck garlic scapes are, leave a comment on one of my posts, on Baby Gizmo's Facebook page, or find me on Twitter.