Halloween Oreo Chocolate Cookie Bars
Don't miss another fabulous recipe! Follow us on Facebook for yummy recipes everyday!
This past weekend I was assigned the task of bringing a dessert to our neighbor's house for our weekly Sunday football get-together. The only request that I received (besides that it had to be fabulous!) was that it could not contain nuts. One of the kids is allergic to nuts and they didn't want any nuts in the house.
Since I can whip up a dessert in less than an hour and have it ready to go, I figured I would just make something on Sunday morning before we left. I always have tons of baking supplies in the house, so I could make cookies, bars, cake or cupcakes without heading to the store. Well, that is usually how it goes. Little did I know that my husband would clean out the fridge of all eggs making omelets for the kids that morning. Problem was that I didn't realize this until I went to make a dessert last minute. Gah! Most easy-to-make desserts, whether made from scratch or from the box, require eggs.
I was feeling lazy and being short on time, I just didn't want to head to the store for eggs. So, I decided to get creative and figure out something without eggs and without nuts. No small feat, I tell you.
Since I had a new package of Halloween Oreos just staring at me from the pantry, I knew I had to use them! After the Halloween Oreo Chocolate Chip Pudding Cookies last week, I knew I could make something even better. I have to say that what I came up with was amazing and totally worth sharing. It was a HUGE hit with the neighbors and they all asked me to bring these bars every time I come over.
Let me introduce Halloween Oreo Chocolate Cookie Bars.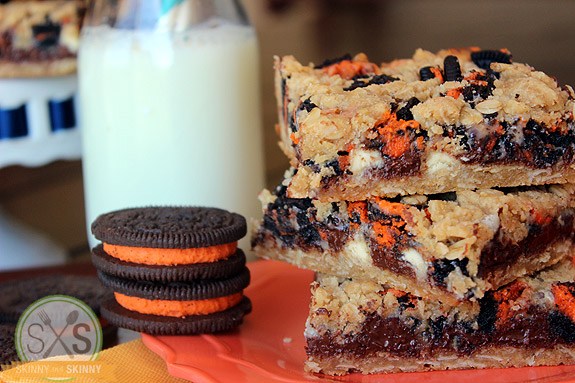 Ingredients:
1 1/2 cup all-purpose flour
1 1/2 cup quick-cooking oats
1 cup brown sugar
3/4 cup butter, softened
1 (14 oz) can sweetened condensed milk
1 cup semi-sweet chocolate chips
1/2 cup white chocolate chips
20 Halloween Oreos (chopped)
Instructions:
1. Preheat oven to 350 degrees. Combine flour, oats, brown sugar and butter in large bowl; mix well. This mixture will be crumbly.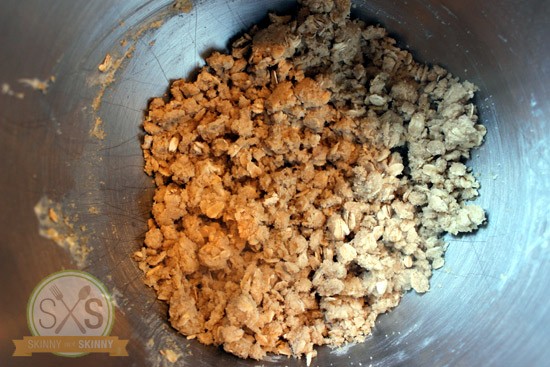 2. Line a 13 x 9-inch baking pan with parchment paper and lightly grease the paper with shortening. This is VERY important to do or your bars are going to stick to the bottom of the pan. Reserve 1 cup oat mixture and press remainder onto bottom of the baking pan.
3. Bake 10 minutes.
4. While the crust is cooking, chop the Halloween Oreos into pieces.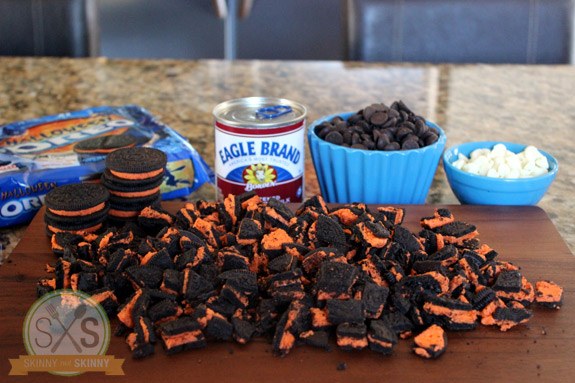 5. After removing from oven, immediately pour sweetened condensed milk evenly over crust.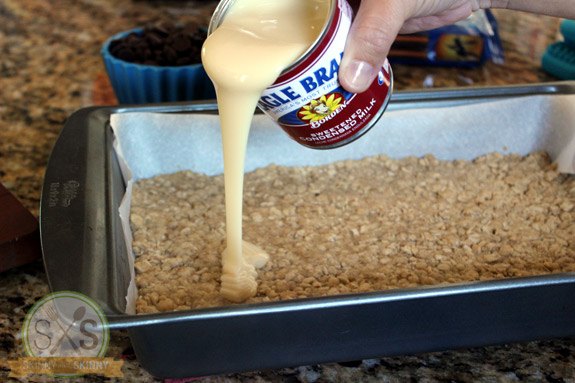 6. Sprinkle with semi-sweet and white chocolate chips and top with Oreo pieces.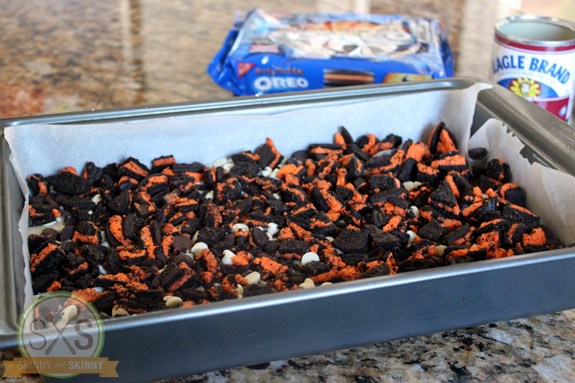 7. Top with reserved oat mixture; press down firmly.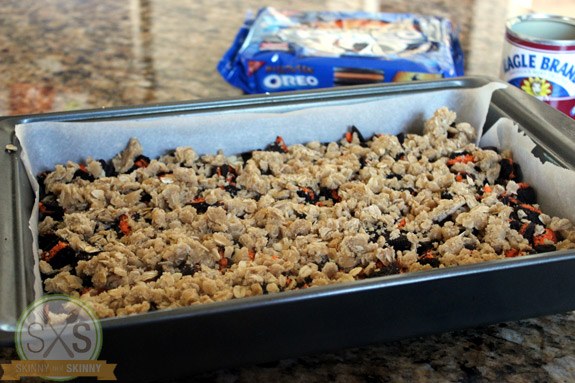 8. Bake an additional 25 minutes. Topping will be lightly browned.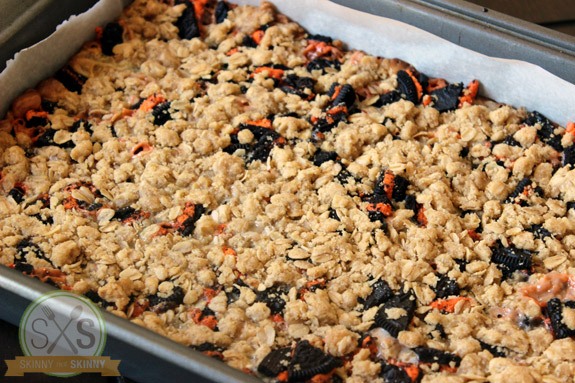 9. Cool. Cut into bars. Eat. FYI – these are amazing served warm and topped with vanilla ice cream.