Pinterest is my new BFF. There I said it. I love to bake, therefore, I love Pinterest. The ideas for things to make are endless!
Like I've said before, the problem can be that you never know if the recipe is really good even though the photo looks fantastic. Photography is a funny little thing that can make everything look better. The lighting, the positioning, the Photoshopping…it can change everything! That is why, I like to make most things before just sharing them with you to verify if they are really good or not. Today's recipe is REALLY GOOD!
I decided to move away from Reese's Peanut Butter Cups for a while and mix it up with another type of candy-infused dessert. For this next dessert idea, I owe a shout-out to Cookies and Cups. Thanks for the idea, Shelly, these are delicious!
If you like Butterfingers, you will love these bars! It's all the same ingredients as chocolate chip cookie bars but with Butterfingers instead of chocolate chips. Plus, add some Butterfinger Buttercream Frosting and we're in business. Just a warning, these are very rich so you won't be eating a lot in one sitting but they are delicious. A tip I would give is to only frost half the pan. While some of my family loved the frosting, others thought it was a bit much and ended up scraping it off.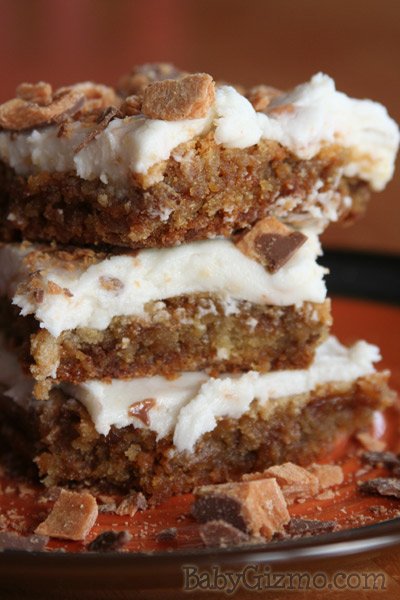 Butterfinger Blondie
Ingredients
1 cup butter
1 cup light brown sugar
1/2 cup granulated sugar
2 tsp vanilla
2 eggs
2 1/2 cups all purpose flour
1 tsp baking soda
1 tsp coarse sea salt
2 cups coarsely chopped Butterfinger Bars (approx 16 "Fun Size" bars)
Instructions
1) Preheat oven to 350°. Chop up 16 "Fun Size" Butterfinger bars.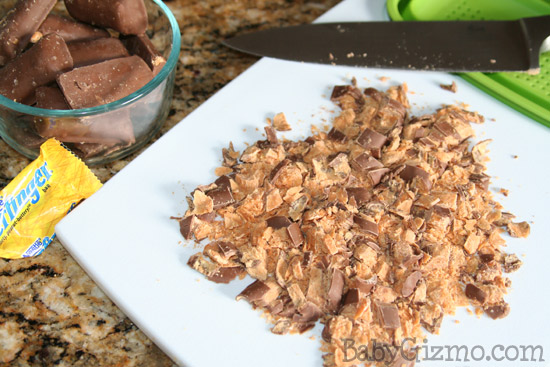 2) Cream butter and sugars in mixing bowl. Add the vanilla and eggs and mix until blended.
3) On low add your dry ingredients (flour, salt and baking soda) and mix.
5) Stir in your chopped Butterfinger.  Spread in a 9×13 baking dish.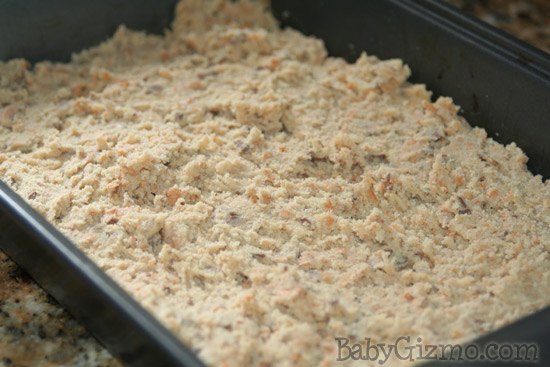 6) Bake for 25 minutes until center is JUST set.
7) Remove from oven and cool completely. Add the Butterfinger Buttercream Frosting (recipe below) or Dreyer's (Edy's depending on what part of the country you are in!) Butterfinger Ice Cream or both and you won't be disappointed!!
Butterfinger Buttercream:
Ingredients
1/2 cup room temp butter (1 stick)
1/2 cup vegetable shortening
2 1/2 powdered sugar
1/2 cup chopped Butterfinger Bars (approx 4 "Fun Size" bars)
Instructions
1) Cream the butter and shortening together until smooth.
2) Add in you powdered sugar and blend until smooth.
3) Stir in your chopped Butterfinger. Spread on your cooled bars.