Rudy's Baked Potato Recipe
When we visited Texas two years ago I fell in love with so many restaurants. I mean, Texas knows how to cook! One of our favorite stops was Rudy's in Lubbock and since coming home we've adopted one of their menu items as our own … the Rudy's Baked Potato. I hope your family will enjoy it too!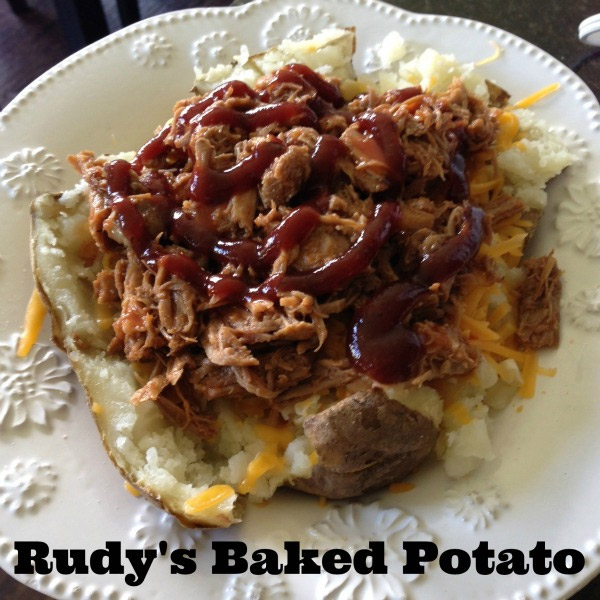 INGREDIENTS
4 large russet potatoes, washed and scrubbed
4 tablespoons butter
1 cup cheddar cheese, shredded
1/2 cup sour cream
Pulled Pork, you can purchase this already prepared or follow this recipe for crockpot pulled pork
Sweet Baby Ray's BBQ sauce or another favorite
DIRECTIONS
Preheat your oven to 400 degrees while washing and scrubbing your potatoes. Prick each potato with a fork – 8 to 10 times – and wrap in foil or place on a baking sheet.
Bake for 1 hour, check with a knife to insure they are cooked through, if not, add another 15 minutes and check again
Allow to cool on stove top for 15 minutes before slicing open
Add fixin's! Butter and cheese first so they melt real well and  then sour cream, pulled pork and BBQ sauce. Other favorites are onions, bacon and a drizzle of ranch dressing. Enjoy!
Have you ever copied a restaurant's recipe for a home meal? I had never though of adding pulled pork to a baked potato until visiting Rudy's. Now, it seems like my potato is naked until topped with pulled pork!