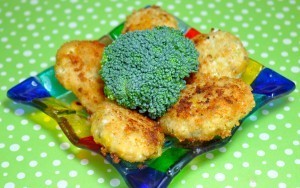 Do your kids love broccoli or anything else that is green…probably not.  My 2 year old daughter would eat anything. She hasn't met a food she doesn't like…she would eat a shoe if it came with a dipping sauce. I struggle with my 6 year old son to eat anything green, unless I incorporate it into a meal he already likes…hence the broccoli chicken nuggets.
If I just serve a side of broccoli or anything green for that matter my son would rather give up all his action figures than eat broccoli by itself.  My daughter on the other hand loves broccoli.  She will usually eat all the broccoli first and beg everyone else for their portion or just steal it when your not looking…she's an aggressive eater.
I know some parents hide the vegetables in their kids' meals and don't tell them that they are eating something healthy. I am a half sneaky mom…I add the food he doesn't like first then after he likes it I spill the beans…or broccoli in this case. I think it's important to teach kids that eating vegetables are good for them and actually tasty. Once my son tastes the food and I tell him what's inside, he will say "broccoli is not disgusting…I like it".  We do the happy dance and everyone is excited one veggie down for the day!
Ingredients:
2 skinless boneless chicken breast
1/2 cup of cheddar cheese
1 cup of steamed broccoli
2 cups of whole wheat bread crumbs
1 egg beaten
1 garlic clove or 1 teaspoon of garlic powder
1 tablespoon of fresh basil or 1 teaspoon of dried basil
1 teaspoon of salt and pepper
olive oil
Method:
1. Add all chicken, cheese, broccoli, garlic, basil, salt and pepper in a food processor and mix all ingredients until well combined.
2. Using a tablespoon form mixture into nugget shape.
3. Dip nuggets into beaten egg then bread crumbs
4. Drizzle 2 tablespoons of olive oil over chicken nuggets and bake at 350 degrees for 18-20 minutes turning after 10 minutes. You can also cook them stovetop with 2 tablespoons of olive oil 5 minutes per side until completely cooked.