Whole Wheat Banana Mini Muffins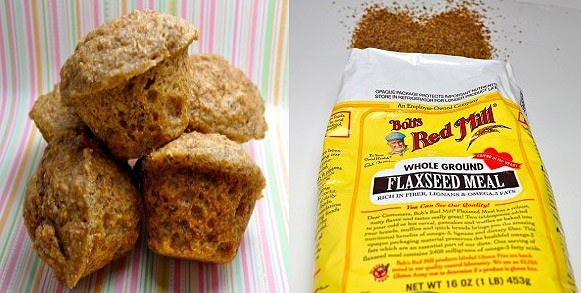 I must admit I sometimes struggle in the morning with getting both kids up, dressed and fed by the time the school bell rings.  There is a lot going on in the morning and sometimes the last thing I have time to do is whip up breakfast let alone turn on the stove.  This recipe is my go-to breakfast meal for those busy mornings where you are eating breakfast in the car…yes we have those mornings too!
This recipe makes 24 mini banana flax seed muffins. Surprise…I add ground flax seeds for a nutritional boost!  Flax seeds are high in omega 3's, fiber and improve immunity. You can add ground flax seeds into smoothies, cereals, cookie batter and muffins. Also, these muffins are great because I notice the minute I make anything in a mini version the kids seem to love it! When I made them on a Sunday afternoon to have on hand for the school week they gobbled them up! They were eating them behind my back as I was trying to take a picture for this recipe. Sneaky little guys, right?!? So this photo is what was left from the first dozen.
These mini muffins make a great healthy and portable breakfast for those busy school day mornings. HINT: I make the whole batch of 24 and keep them in the fridge and just heat them in the morning for 10 seconds.
Ingredients:
4 Ripe bananas pureed
1 1/2 cups of whole wheat flour
1/2 cup of yogurt
1/4 cup of ground flax seeds
1/4 cup of melted butter
1/2 cup of brown sugar
2 eggs
1/2 teaspoon of baking soda
1 teaspoon of baking powder
1 teaspoon of cinnamon
1/2 teaspoon of salt
Non-Stick Spray
Method:
1. Combine all dry ingredients flour, flax seeds, sugar, baking powder, baking soda, cinnamon and salt.
2. In a separate bowl combine all wet ingredients bananas, eggs, yogurt, butter and vanilla.
3. Add wet ingredients to dry ingredients until well combined.
4. Spray a mini muffin tray with non-stick spray fill tins half way with muffin batter bake 350 for 12-15 minutes until a toothpick comes out clean from the muffin.