Peppermint Oreo Cookie Brownies
Don't miss another fabulous recipe! Follow us on Facebook for yummy recipes everyday!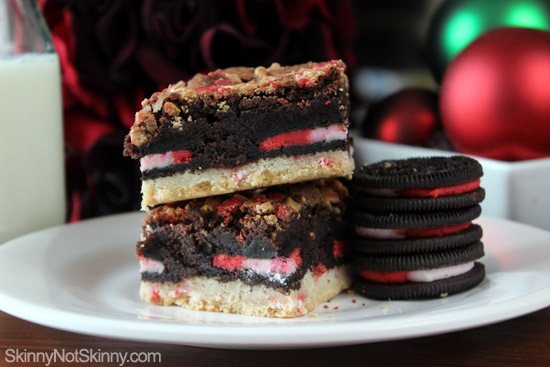 It is the holiday season already and that means that I'll be baking, baking, baking! I don't have to tell you that I love this season because we tend to be a little dessert heavy here!
At this time of year, I'm always on the lookout for seasonal food products that I can put together to create something fabulous. When I was grocery shopping the other day, I saw the Pillsbury Peppermint Sugar Cookie roll and the Candy Cane Oreos. I had a mini ah-ha moment and knew that if I combined these two cookies and added a little more chocolate (who doesn't like more chocolate, right?!?), I'd have a match made in holiday heaven.
That is how the Peppermint Oreo Cookie Brownies came to be!
Ingredients: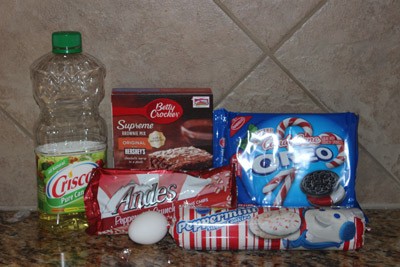 Candy Cane Oreos (16 cookies)
Pillsbury Peppermint Sugar Cookie Roll (1/2 the roll if you get the "Value Size")
8×8 box of your favorite Brownie Mix
Egg, Oil and water for brownie mix
1/2 cup Andes Peppermint Crunch Baking Chips (optional for garnish)
Preparation:
1. Line an 8×8 baking pan with aluminum foil. Lightly grease the pan with Crisco.
2. If you bought the "Value Size" Pillsbury Peppermint Sugar Cookies, cut it in half and put one half away in the fridge.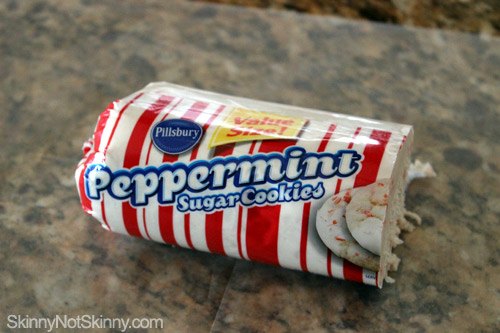 3. Roll out the sugar cookies on a lightly floured baking surface. You want to roll it out into a square the same size at the bottom of the pan. A great way to get a perfect fit is to set the pan on top of the rolled out cookie dough and slice the excess off with a knife.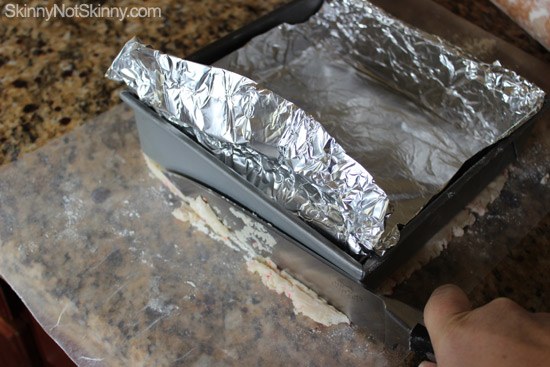 4. Carefully place the cookie square in the bottom of the pan.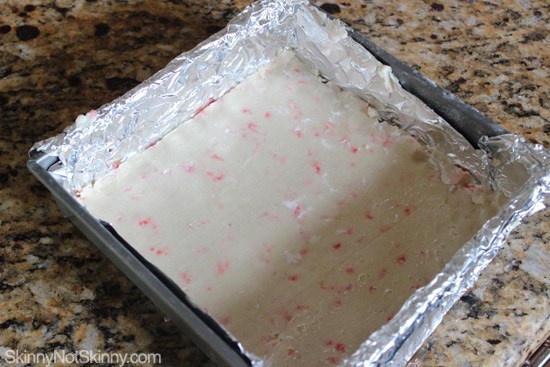 5. Evenly place 16 Candy Cane Oreo Cookies on top of the cookie dough.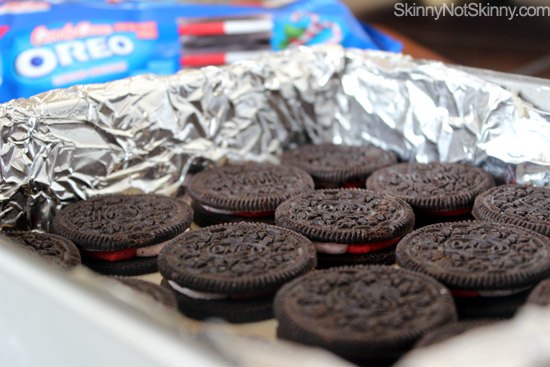 6. Make your brownie mix according to the box. Pour all the brownie batter evenly over the Oreo cookies making sure to cover it all.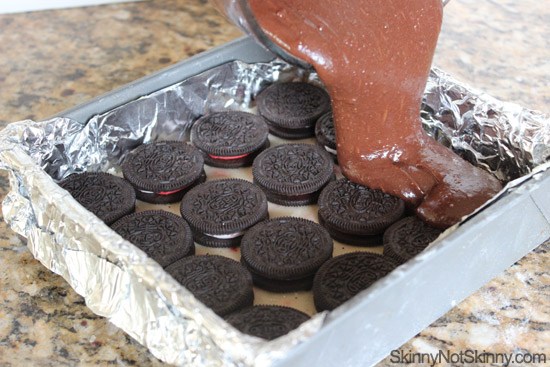 7. Sprinkle the Andes Peppermint Crunch Baking Pieces on top.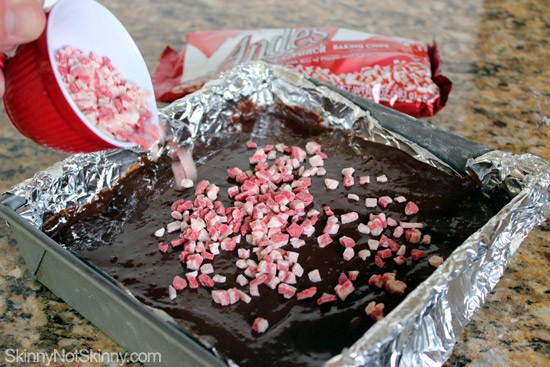 8. Cook at 350 degrees for 55-65 minutes. This dessert will take a while to cook. Be patient. It took about an hour but make sure you keep an eye on it after about 50 minutes. It is done when you take a sharp knife and stick it in the middle and it comes out mostly clean. If it is still dough-y – put it back in.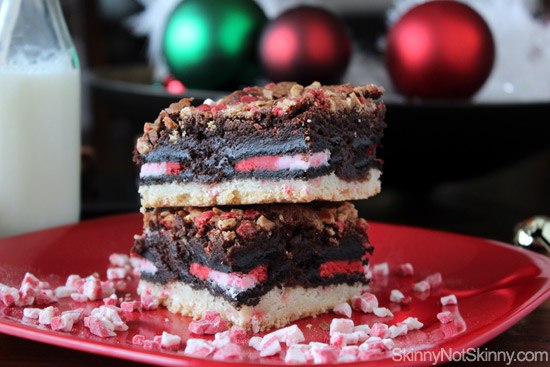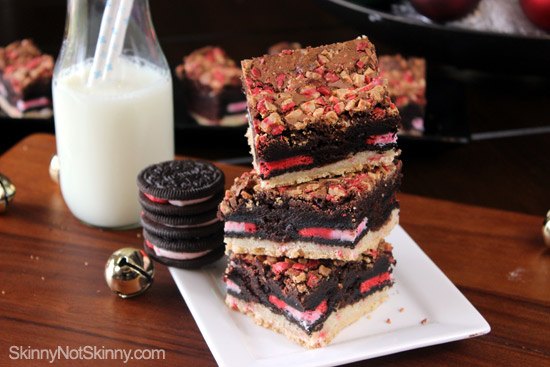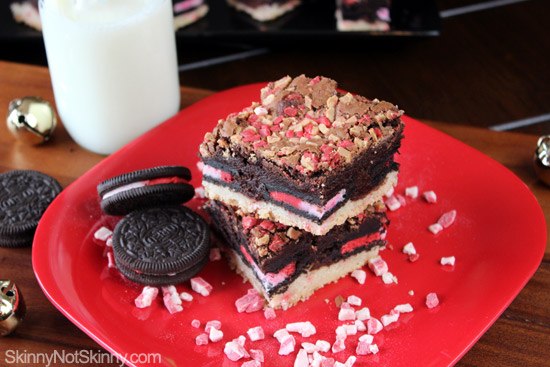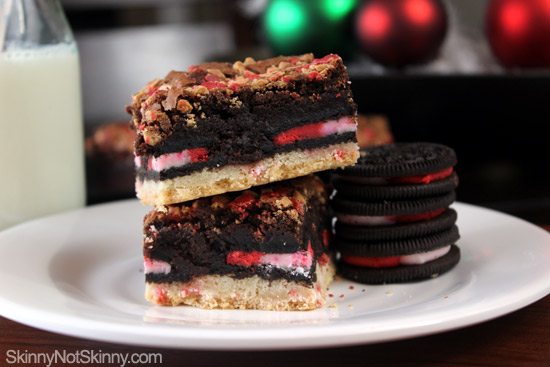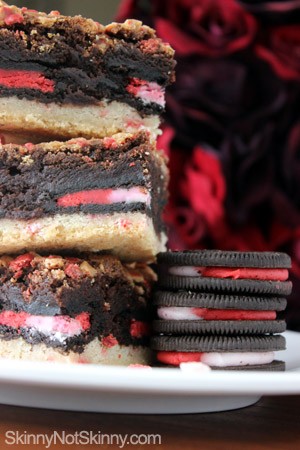 Like what you see? Don't forget to "PIN" the recipe for later and to follow us on Facebook.