There is no doubt in my mind that the recipes handed down from generation to generation are the absolute best. When a recipe can weather the test of time, you know it is a good one! This particular dessert comes from my great aunt Dorothy's recipe arsenal. Although, if anyone ever called her Dorothy she would give you a sideways glance … she was affectionately called Aunt Dot to all those who enjoyed her special treats.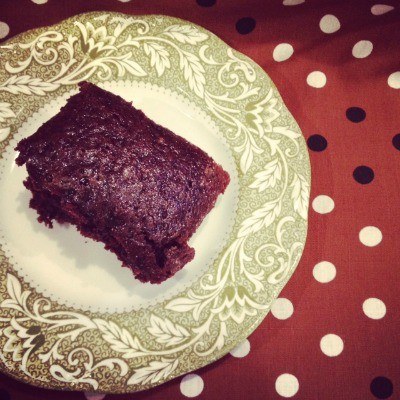 Aunt Dot's Crazy Cake is a perfect starter recipe for little ones. It's pretty basic – simple ingredients with a crazy twist 🙂 Here's what you'll need:
1 1/2 cups flour
1 cup sugar
3 tablespoons cocoa
1 teaspoon baking soda
dash of salt
6 tablespoons oil
1 tablespoon vinegar
1 teaspoon vanilla
1 cup water
And the steps …
Preheat the oven to 325 degrees.
Sift all dry ingredients (flour, sugar, cocoa, baking soda, and salt) into a 9×9 baking pan.
In the pan, dig 3 wells. Fill each well with a wet ingredient. One well gets oil, one well gets vinegar, and one well gets vanilla.
Pour 1 cup of water over the mixture and mix in the pan until well blended.
Bake at 325 degrees for 40 minutes or until a toothpick comes clean when poked in the center.
Allow to cool and serve with your choice of whipped or ice cream. Adding sprinkles and fruit make it an extra special treat for little ones!
As I mentioned, simple recipes like this are great beginnings for little chefs. At 23 months, my daughter loves to help pour ingredients into a bowl, build wells, and stir. It also gives us an opportunity to practice words like "careful" when pouring liquids and "hot" when mama puts our creations into the oven.
How do you incorporate your little ones into your kitchen adventures?