Crockpot Potato Cheese Soup has been my go-to for easy, delicious dinners this winter. It all goes in the crockpot in the morning, and voila, yummy soup in the evening. In an attempt to not wear out the potato cheese soup's welcome with my family, I decided to switch it up the other night and try another soup. Since we are in the process of moving and the crockpot is already packed, I had to go with an old fashioned pot on the stove method.
Since Panera Bread Co. makes the best broccoli cheese soup and it's a way to sneak in some extra veggies into my kids, I wanted to try making it myself. The soup was rather easy to make and only took about 45 minutes of cooking on the stove and occasionally stirring. No big deal.
And you know what? My family LOVED it. Even my "I don't eat broccoli" 4-year-old. Yep, he ate broccoli! Woot! Woot!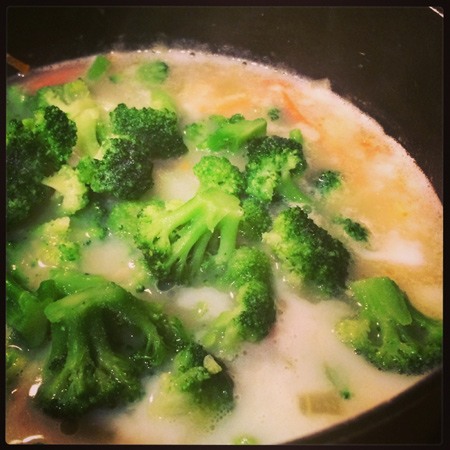 Ingredients:
2 Tablespoons butter
1/2 cup chopped onion
1 cup finely chopped carrot (I used the bag of shredded carrots you buy in the produce dept.)
1 celery stick, chopped
1 Tablespoon minced garlic
4 cups chicken broth (I used Swanson's Chicken Broth)
3 large baking potatoes, peeled and chopped into small cubes
1 Tablespoon flour
1/2 cup water
2/3 cup milk
2 cups chopped broccoli (I used frozen)
2 heaping cups shredded cheddar cheese
Preparation:
*I started by setting the frozen broccoli on the counter to thaw a bit while I started the soup.
1. Melt the butter in a large soup pot.  Add onions, carrots, and celery and saute over medium heat until tender.  Add garlic and cook 1 or 2 additional minutes.  Add chicken broth and potatoes, bring to a boil, and cook until potatoes are tender (about 25-30 minutes)
2. In a small bowl, mix the flour with water. Add flour/water mixture to the soup pot. Simmer on medium heat until soup is slightly thickened.
3. Add milk and broccoli and cook for about 10 minutes until broccoli is just tender and soup is heated through.   Stir in cheese, allow to melt, and serve.
Serves: 5