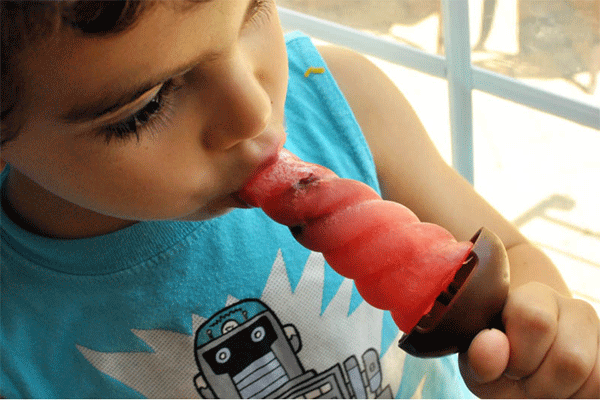 We love popsicles around our house and over the years I've come up with quite a few recipes. I've discovered that no matter what ingredients I choose, if I freeze them inside a cute mold on a stick, the kids are sure to love them.  Needless to say they are really pop-ular  (pun intended-I'm a dork!) around our house so I try to always have a batch in the freezer, especially during the summer months. I have a 3 year old and an 18 month old and for the baby, they make an excellent sore gum soother and for my preschooler,  a quick and easy way to stay hydrated in the mid-day summer sun.
I usually keep my popsicles low in sugar and mainly yogurt based or all fruit to keep them really healthy. However, every once in a while I like to try something a little different.  Case in point: I was at the supermarket the other day and came across this bottle of grenadine syrup. It instantly brought me back to my Shirley Temple drink days so I just had to buy it. For those of you who've never had a Shirley Temple before, its a non-alcoholic drink supposedly created for the famous child star by a friendly Beverly Hills bartender. It's usually made with grenadine syrup, and some sort of club soda or ginger ale and topped with maraschino cherries. It's a fun drink to serve the kids when they want to feel fancy and cocktail-like. : )
Full disclosure: grenadine syrup is basically food coloring and corn syrup so it's not something I'd serve to my kids often. Everything in moderation, right? I kept this recipe light on the syrup and used water instead of ginger ale to keep the sugar content low. I also mixed in some lime juice to give it a slight tang and swapped in a fresh cherry in lieu of the brightly colored, overly sweet maraschino cherries. If you are dead against using grenadine syrup, you can definitely swap in some homemade cherry syrup which I make all of the time and it's wonderful in many recipes. But no matter what syrup you use,  the end result is sure to be hit with kids both big and small. Stay cool, friends!
Shirley Temple Ice Pops
Makes 4
Ingredients:
1/4 cup grenadine syrup
12 ounces of water
Juice of one lime
4 whole fresh cherries, pitted
Instructions:
1. In a medium bowl whisk together grenadine syrup, water and lime juice. Place one cherry into the bottom of each (3 ounce) popsicle mold. Fill each popsicle mold with the  grenadine mixture and freeze for a  minimum of 6 hours. Enjoy!