Panera Bread Knock-Off: Broccoli Cheddar Soup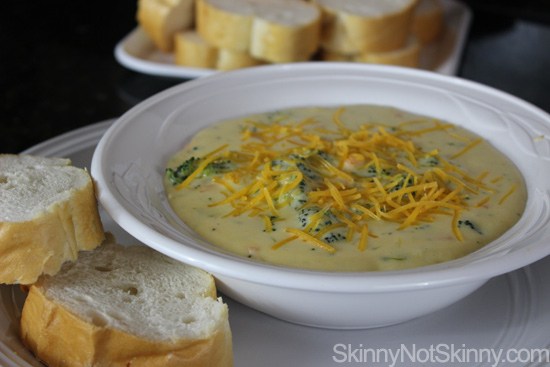 With the ridiculously cold weather in Chicago this year, I've been on a warm soup for dinner kick. The Crockpot Cheesy Potato Soup is our favorite but Broccoli Cheddar Soup is becoming a close second. A couple weeks ago I tried a great broccoli cheese soup that turned out great, but since I don't just settle for just one recipe, this week I tried out another recipe and found it to be just as amazing. This recipe is a knock-off of the delicious Panera Bread broccoli cheddar soup and I think it's very close. I honestly think this recipe is a little bit better than the first one I shared.
Ingredients:
1 tablespoon butter
1/2 medium chopped onion
1/4 cup melted butter
1/4 cup flour
2 cups half-and-half cream
2 cups chicken stock
1/2 lb fresh broccoli, chopped
1 cup carrot, julienned
1/4 teaspoon nutmeg
8 ounces grated sharp cheddar cheese
salt and pepper
Preparation:
1. Sauté onion in 1 TBSP butter in a small skillet. Set aside.
2. In a large pot, melt 1/4 cup butter and then add flour. Cook over medium heat for 3-5 minutes and stir constantly using a whisk. Add the half & half. Stir until all combined.
3. Add the chicken stock. Simmer for 20 minutes.
4. Add the broccoli, carrots and onions. Cook over low heat for an additional 20-25 minutes.
5. Add a dash of salt and pepper. Add cheese. Stir in nutmeg. Continue heating until cheese is all melted (approx. 5 minutes). NOTE: Some people purée the soup in a blender at this point but I don't because I like big florets of broccoli in my soup.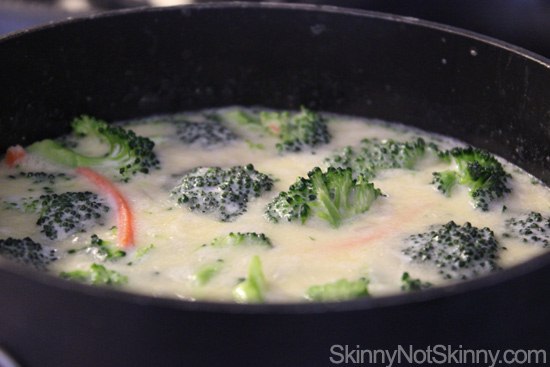 6. Remove from heat and serve with crusty bread and/or crackers.