Chocolate Peanut Butter Cup Cookies
Don't miss another fabulous recipe! Follow us on Facebook for yummy recipes everyday!
We thought we'd take a temporary break from Halloween desserts (for just a day!) and feature a delicious cookie that can be enjoyed all year round. This is my go-to cookie for holiday cookie exchanges, fancy parties or just family get-togethers that people demand peanut butter and chocolate. Yes, my family demands things like peanut butter and chocolate when I'm getting ready to bake.
These cookies aren't terribly hard to make but they sure look fancy when you bring them to a party. Plus, the combination of peanut butter and chocolate with the peanut butter drizzle on top is to die for!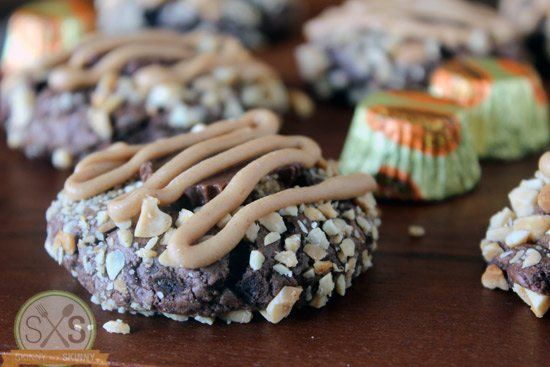 Chocolate Peanut Butter Cup Cookies
Ingredients:
1 cup semi-sweet chocolate chips
2 squares (1 ounce each) unsweetened baking chocolate
1 cup sugar
½ cup Butter Flavor Crisco
2 eggs
½ tsp salt
1 tsp vanilla
1 ½ cups flour
½ tsp baking soda
¾ cup finely chopped peanuts
36 Reese's miniatures peanut butter cups (frozen)
1 cup melted peanut butter chips for drizzle on top
Make sure your peanut butter cups are in the freezer before you begin.
Combine chocolate chips & chocolate squares in bowl and microwave at 50% for 2 minutes. Stir. Repeat for an additional 30 seconds until chocolates are smooth & melted.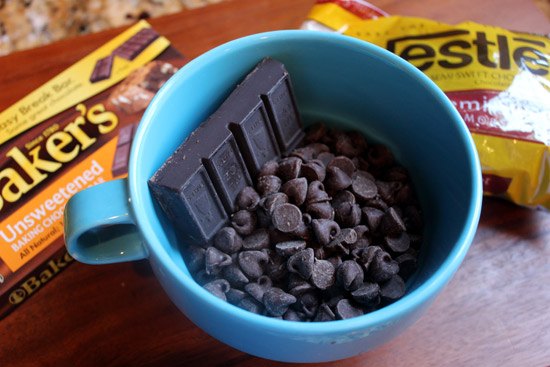 Combine sugar and ½ cup shortening in a large bowl. Beat at medium speed until blended and crumbly. Beat in eggs, one at a time, then salt and vanilla. Reduce to low speed. Add chocolate slowly.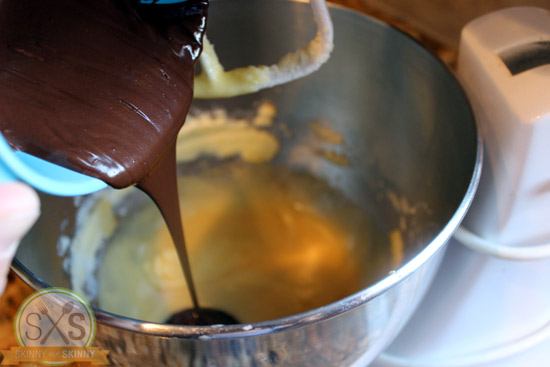 Mix until well blended. Add baking soda & flour and mix until combined.
Shape dough into 1 ¼ inch balls. Roll chopped peanuts.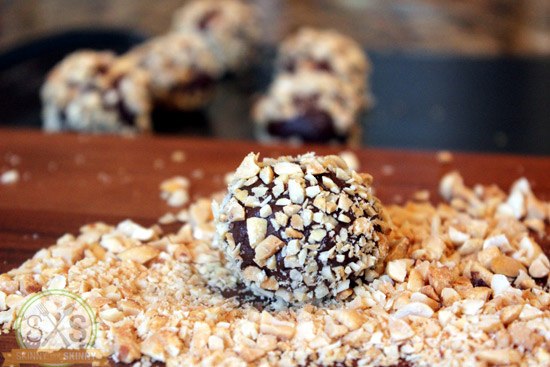 Set dough balls on baking sheet. Do not flatten.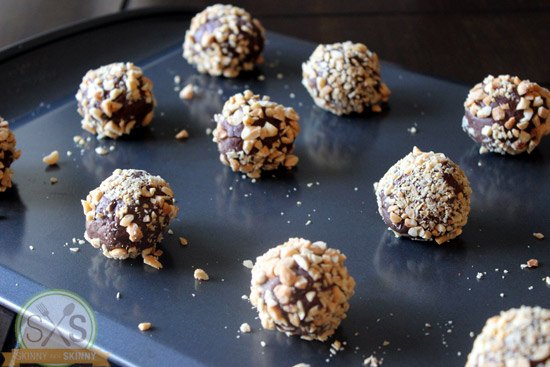 After you put the cookies in the oven, unwrap the peanut butter cups.
Bake at 350 degrees for 8 to 10 minutes. DO NOT OVERBAKE. Cookies will be soft. When you remove them from the oven, immediately press a frozen, unwrapped peanut butter cup into the center.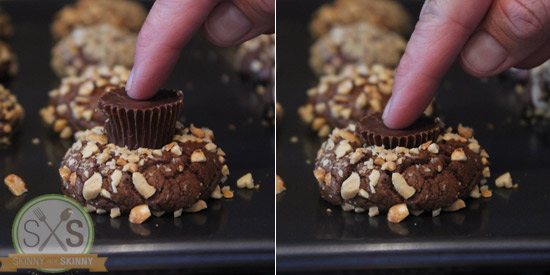 Let cool on pan for 1 minute, and then move to cooling rack.
When cookies are cooled, it is time to drizzle the peanut butter chips over them. Melt the peanut butter chips at 50% in the microwave for about 1 minute. Stir until smooth. Add the melted chips to a plastic sandwich bag and cut off a small corner. Squeeze the peanut butter in a zigzag patter over each cookie.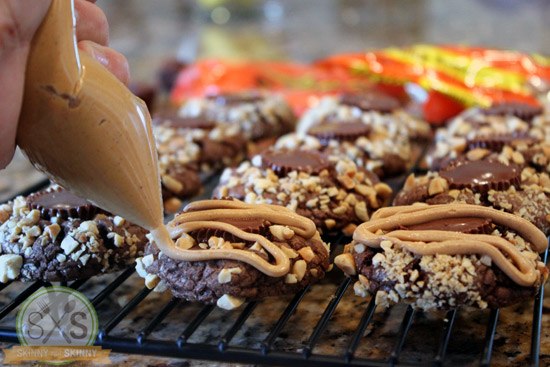 Let the peanut butter set before stacking or putting cookies away.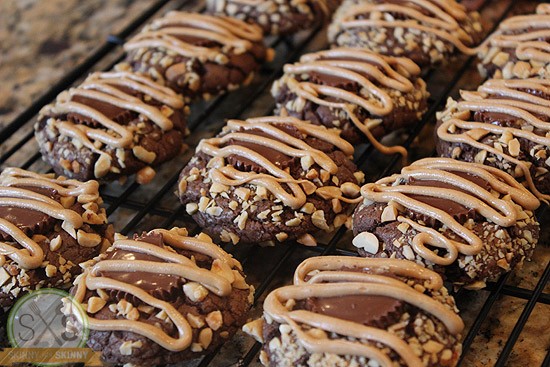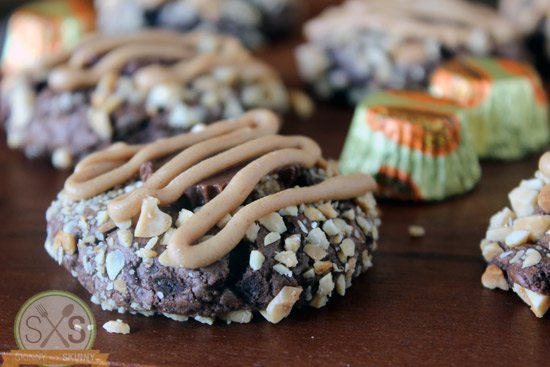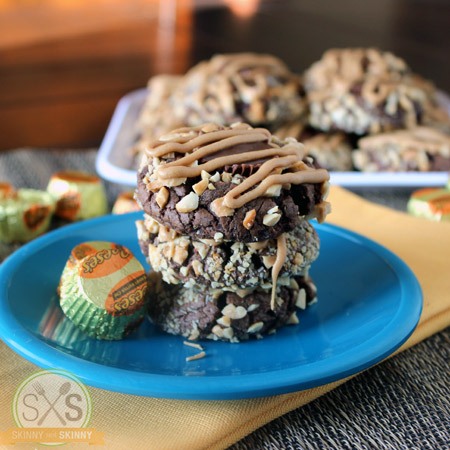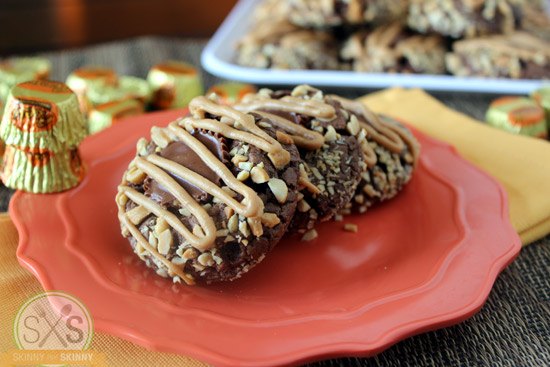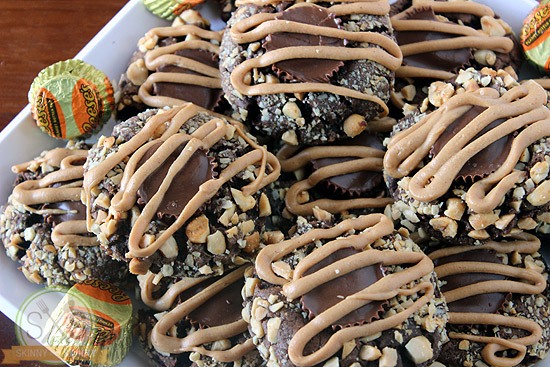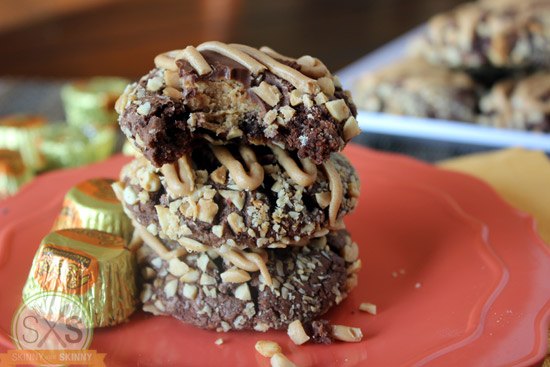 *I have this recipe hand written on a piece of paper with my cookbooks. I think it is from a Pillsbury cookbook from years ago.