I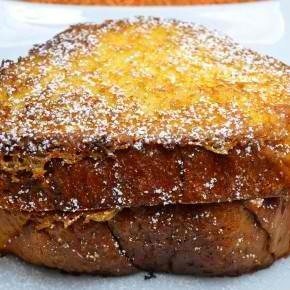 I saved the best pumpkin recipes for last….Pumpkin French toast.  I basically kicked up a traditional french toast recipe with pumpkin puree.  The pumpkin puree and pumpkin pie spices adds such a warm, delicious pumpkin flavor that you may never make plain French toast again!
The pumpkin puree gives the batter such a nice orange color and the aroma in your kitchen when you are cooking them is incredible.
You can make the batter the night before and soak the bread in the batter for 15 minutes while you have your morning coffee. I used challah bread with is a very rich bread you can also use whole wheat bread. I cut the bread into three like french toast sticks for the kids.
Hopefully after dedicating the month of November to pumpkin you will look at all the wonderful delicious recipes you can make with pumpkin.
Ingredients:
2 cups of milk
2 eggs
1/2 cup of pumpkin puree
1 tablespoon of pumpkin pie spice
1 loaf of challah bread cut into 1 inch slices or whole wheat bread
2 tablespoons of sugar
1 tablespoon of vanilla extract
Pinch of salt
Butter for pan
Method:
1. Combine all ingredients in a bowl excluding bread.
2. After the batter is well combined add bread and soak in the mixture for 15 minutes.
3. Add butter to the pan and brown french toast on each side until golden brown 4-5 minutes.