Peanut Butter Granola Roll-Ups Recipe
This is a great kid-friendly snack that is so easy to make that you can let the kids help. Since there is not cutting, blending, slicing or anything dangerous, making this recipe is a great after school activity.
Ingredients:
1 can of Pillsbury Crescent Rolls (regular or low-fat)
2 Nature Valley Crunchy Peanut Butter Granola Bars
1/2 cup of semi-sweet chocolate chips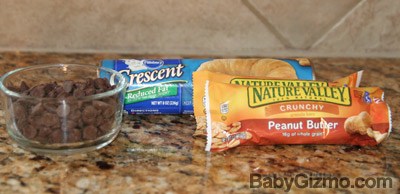 1) Crush the 2 packages of Nature Valley Crunchy Peanut Butter Granola Bars by either squeezing the bag and breaking it into pieces or removing from the packages and crushing with the bottom of a bowl. You may have to break up the larger pieces individually depending how much of the granola crushed.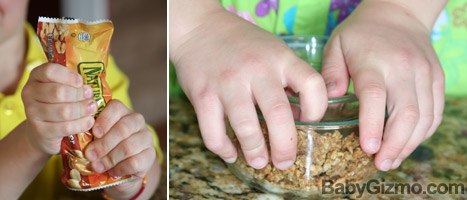 2)  Unroll the crescent roll triangles onto a baking sheet. (No need to grease the pan because these don't stick.) Sprinkle about 1/2 – 1 Tbsp granola on each crescent triangle.
After each piece of dough has granola, sprinkle as many chocolate chips as you see fit on each triangle. We sprinkled about 10-12 chips on each.

3)  Carefully roll the crescent rolls up trying to keep as much of the granola and chocolate from spilling out. To help keep the ingredients in, we folded the sides up to seal the crescents.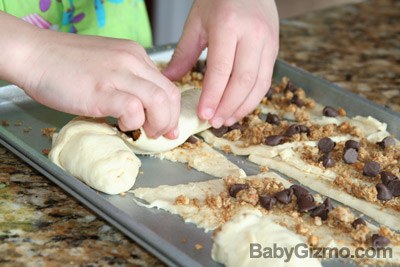 4) Bake at 350 degrees for 8-10 minutes or until golden brown. Remove from oven and let cool for 3-5 minutes. Once they are cool to the touch – enjoy! I told you it was easy.