Nutella Stuffed French Toast Roll Ups
I know, I know, I'm on a healthy eating kick lately, and yet, I'm sharing a Nutella recipe with you? Yes, sometimes we all have to cheat a little because it's all about moderation. What better way to cheat than with the most delicious breakfast rolls that I've ever made. These are so good and sweet that they don't only have to be for breakfast. They are certainly worthy of serving for a dessert or a snack. Heck, serve them anytime! You won't be sorry.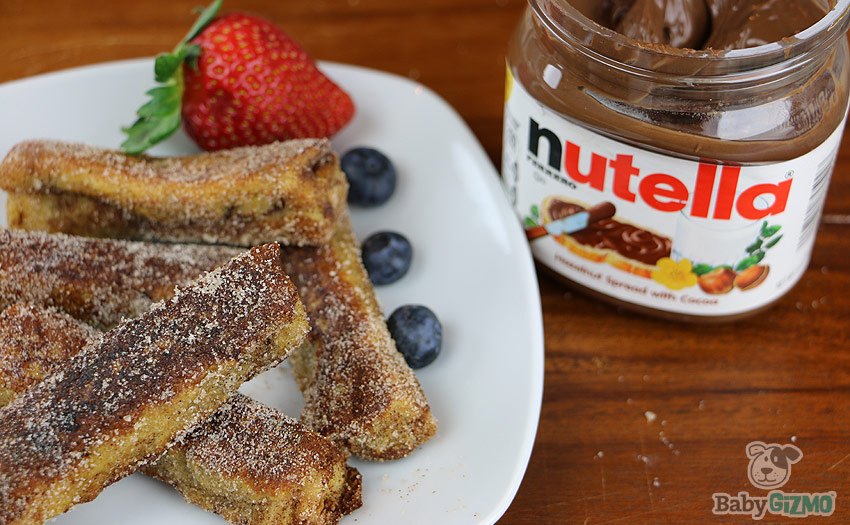 This is a twist on the Grilled Cheese Rollups that we shared a few months back but I have to admit that they are waaaayyy better! You can't go wrong with Nutella and a cinnamon sugar topping, right? Seriously, these rolls are easy and so yummy that you're whole family will be begging for them every morning!
Okay, enough talk. Let's just get you cooking these!!
INGREDIENTS:
10 pieces of bread
10 teaspoons of Nutella (or more!)
1 egg
1 1/2 TBSP milk
1/2 cup sugar
1 TBSP cinnamon
2 TBSP butter
DIRECTIONS
1) Cut off the crusts of each piece of bread. Flatten bread with a rolling pin or side of a smooth cup. Spread each slice of flattened bread with one teaspoon (or more!) of Nutella, covering the entire surface of the bread.
2) Roll the bread up tightly, sealing shut with a dab of Nutella.
3) In a bowl, whisk the egg and milk until combined.
4) In another bowl, combine the sugar and cinnamon and mix well.
5) Heat 2 TBSP butter in a skillet. Dip each Nutella roll in the egg mixture until coated, then place in the hot skillet. Gently roll the Nutella rolls with a tongs or a fork while cooking to brown all sides.
6) Remove from skillet and immediately roll in the cinnamon sugar mixture. Serve immediately.