Don't miss another fabulous recipe! Follow us on Facebook for yummy recipes everyday!
You know those moments when you think, "Golly, I'm officially a mom genius! I'm really getting a hang of this ever-changing job of mine!" I have those moments occasionally. Maybe every other month or so. I don't get a lot of sleep so for me, that seems pretty often! And when those genius moments come, I high five myself and celebrate by taking a nap with the kids or spoiling dinner with a surprise stop for frozen yogurt.
Anyways – my latest mom genius moment is the muffin tin meal. It's my super simple way of making meals fun and providing balance, without going all bento-crazy. Although, I do want to give bento-ing a try soon! This mama is so inspiring and I totally think I could replicate some of her meals because they're normal and don't take any extreme artistic skills.
The first thing you'll need is a spare muffin tin or two. I like the half dozen/6 spot ones, because I'm rarely creative enough to fill 12 spots. I found mine at the dollar store for, get this, only $1!
Now, to fill the spots. I usually aim for 1-2 spots of a main dish, a dairy, a fruit or veggie, a dip (because my daughter is obsessed with dipping her food) and whatever else I've got on hand. Sometimes her vitamins or a whole grain fill a spot too.
Here's a snapshot of some of her favorite muffin tin meals …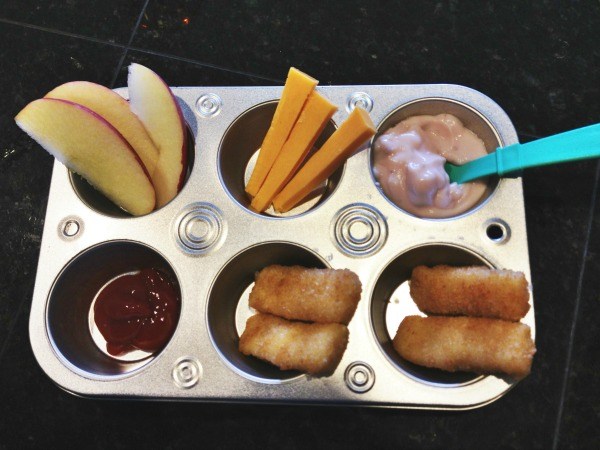 apple slices, cheese sticks, berry yogurt, ketchup (this is the all-time ketchup best option out there!) and fish sticks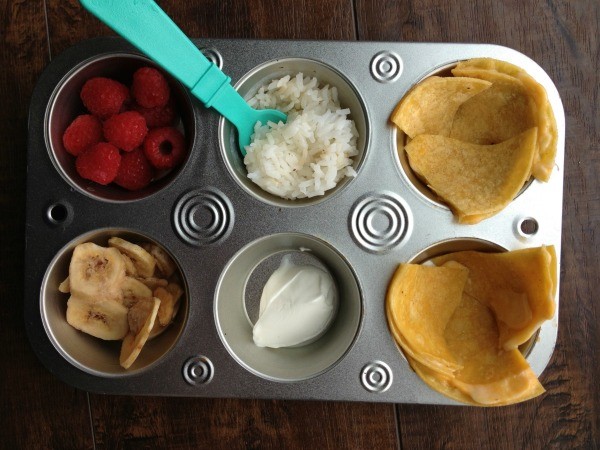 raspberries, rice, banana chips, sour cream and chicken/cheese quesadillas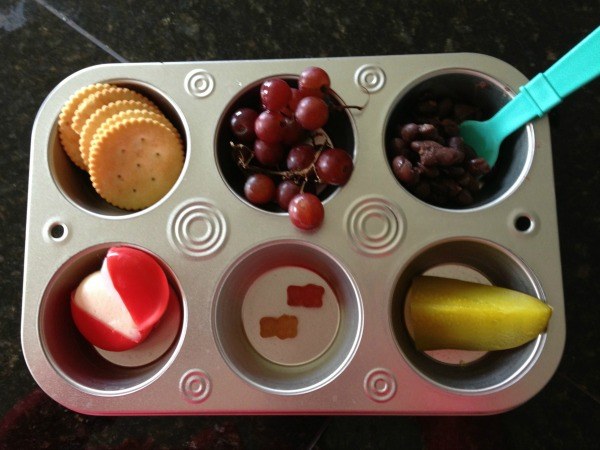 crackers, grapes (we've been practicing eating them whole and biting/chewing really well lately!), homemade crockpot refried black beans, cheese wedge, bear vitamins and a pickle
Super easy and totally amusing to my three year old who enjoys emptying each spot before moving on to the next.
Are you gonna give muffin tin meals a try? What will you fill your 6 spots with?