Healthy Family Eating with the Vitamix +GIVEAWAY
Congrats to our winner –
Entry #6429 – Danielle M-G.
I have recently discovered one of my new favorite kitchen appliances. To the kitchen amateur, this may look like just an ordinary blender, but in reality it is so much more. The Vitamix 5200 gives you the ability to chop, cream, blend, heat, grind and churn – all in one machine. This is what I like to call a "healthy food machine" that lets you make frozen drinks, soups, sauces, desserts, baby food, breads and so much more!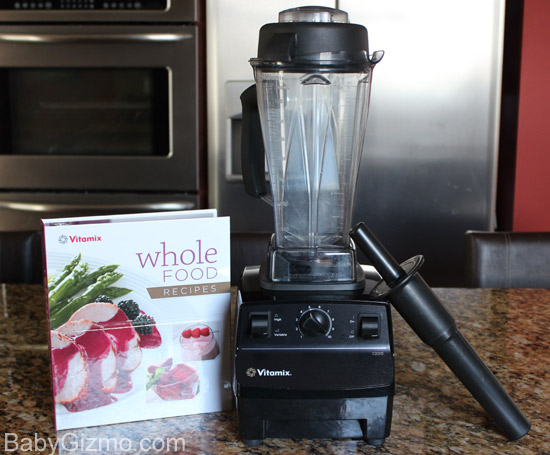 I have had the opportunity to try out the Vitamix 5200 over the past two months, and let me tell you, I am in love. After my regular old blender broke, I was on the hunt for a new one since we are a smoothie family. Our blender has a very important job in our family since we put it to work at least twice a day every day. As I was shopping around and considering all types of blender features, I decided I wanted something more than just a blender. I wanted an appliance that would help me with my goal of getting my family to eat healthier. This led me directly to the Vitamix. It was exactly what I was looking for.
This is an appliance! Basically an universal machine that could work as my blender, food processor, smoothie maker, baby food maker, grinder, chopper and frozen drink maker all in one to make home cooked meals from beverages to creamy desserts.
WHAT IT COMES WITH:
The Vitamix 5200 Standard comes with a base/motor, 64 oz container, The Whole Foods Recipes cookbook, Getting Started guide, Let's Get Started DVD and a tamper.
VITAMIX 64oz CONTAINER:
The easy-to-use 64 oz container is made of a BPA-free Eastman Tritan copolyster material. Basically, it is a heavy-duty plastic that is free of the yucky BPA! I love that the soft-grip, ergonomic handle is big and easy to hold. Inside you'll find laser-cut, stainless-steel hammermill and cutting blades that measure 3″ in diameter. These are the blades that will get the job done no matter what you throw at it.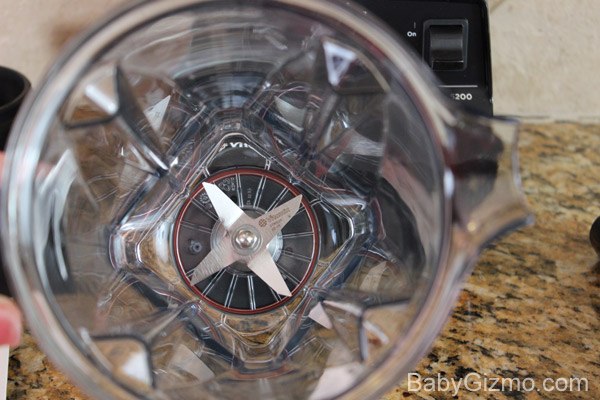 The spill-proof, vented lid locks down on the container easily and features a removable plug to safely add ingredients to your mixture while the machine is on.
One of my favorite parts of the Vitamix is the include tamper. This tool fits through the hole in the top of the lid (with the plug removed!) and allows you to safely move the mixture around when making thick mixtures like peanut butter and playdough. They have designed it perfectly with a collar to prevent it from hitting the blades.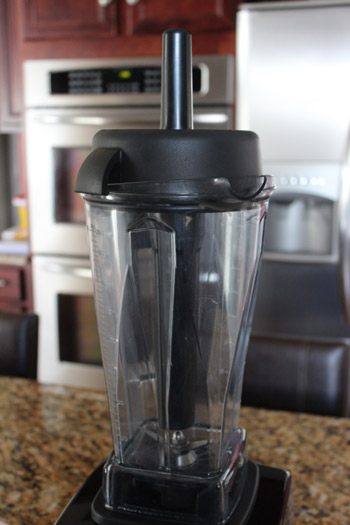 VITAMIX BLENDER BASE:
The blender base is naturally the heaviest part of the machine since it houses the 2-peak HP motor. I'm not sure what that means but I can tell you it is powerful. This is more powerful than your standard blender, believe me! I also like that the motor has a built-in radial cooling fan and thermal protection system to keep the motor from over-heating. This is a super important feature since some of the recipes require you to keep the machine on for 7-10 minutes at a time. Plus, with the thick recipes that it can make such as playdough and peanut butter, you wouldn't want a machine that overheats every time you turn around.
The blender base is very user-friendly and only has two switches and a dial. One on/off switch, a dial for speed and another switch to put the machine in high speed is all you need to learn. Super easy.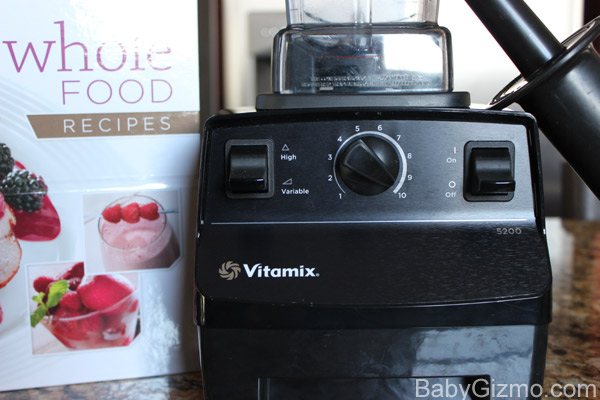 THE WHOLE FOODS RECIPES COOKBOOK:
This included cookbook is amazing! It has loads of recipes all with beautiful photographs and is organized in an easy-to-navigate binder with categories such as soups, beverages, sauces, breads, dips & spreads, breakfast, desserts and more. I love that they included this cookbook so that I could start making great food right away. I sat down with it and started marking off the recipes that I had to make before I even turned on the machine.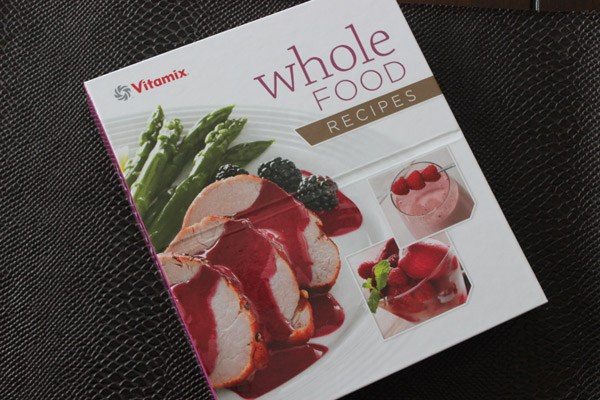 To get my kids involved with our new appliance, one of the first recipes we made was for playdough. It was easy to do and the kids LOVED playing with the finished product! I may never buy packaged playdough again!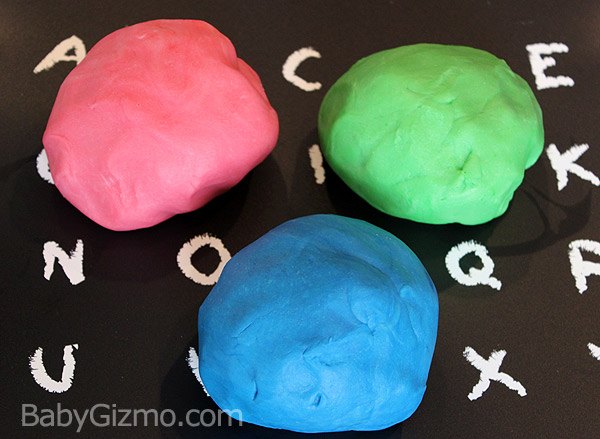 USING THE VITAMIX:
I absolutely adore the versatility of this blender. There are just so many things you can make with it. As a new parent, you could use it to make baby food purees. Instead of purchasing a baby food maker that usually comes with baby-sized containers, you could use the Vitamix for all your baby food making needs. That way, when you are out of the baby food phase, you still have a kitchen appliance you can use for years to come with the whole family.
Like I said at the beginning, we are a huge smoothie family. My husband and I each make a smoothie a day. Using the Vitamix smoothie making is super easy and with the 64oz container we are able to make enough to share with the kids.
The Vitamix is so powerful that you don't have to chop everything up into small pieces to get it blended. Things like the core of a pineapple which is very, very tough, yet has super great nutrients for preventing arthritis, can be easily chopped into your smoothie. The rind of a watermelon can be easily included as it is good for your skin and immunity. Also, the fleshy part of the orange which is usually discarded can be blended into your smoothie which keeps most of the Vitamin C of the orange in your drink. Plus, I love that I can sneak green foods like kale and spinach into my kids smoothies without them freaking out!
I've made so many recipes in the past couple months from soups to breads to desserts that we've really put the Vitamix through the ringer. It has performed like a champ and is still going strong and I expect it to for a good 20 years.
My only complaint with the Vitamix is that at 21″ tall, it is too tall to fit on my counter under the cabinets. The standard space from counter to cabinets is about 18 1/2 inches which makes it impossible to store the Vitamix out on your counters. Not a huge deal because I don't usually display my appliances in my kitchen, but if I did, that I would have liked the container to be a little shorter.
PRICE:
The Vitamix is by no means cheap. At over $400, this is one of the most expensive blenders you'll ever buy. Remember though this isn't JUST a blender. This is a universal tool (appliance) for creating family meals and entertaining. Plus, with a 7 year warranty and testimonials from customers who have had their Vitamix machines for over 20 years, this is a blender for the long haul. If you break it up as an expense per year for 20 years, it's only $20/year. That sounds like a bargain to me! 🙂
Overall, I love the Vitamix. I didn't think I could love a kitchen appliance this much but I do. This is a machine that I use daily to help my family eat healthier.
To see the Vitamix up close and personal, don't forget to watch our Baby Gizmo video review at the top of the post!

WHAT IS UP FOR GRABS: One (1) Vitamix 5200 Machine
We love the Vitamix so much that we teamed up with the company to give away one (1) Vitamix 5200 machine to one lucky winner. We wanted someone else to experience the awesomeness of the Vitamix too!
HOW TO ENTER: Rafflecopter is back for this one!
A blog comment is the only mandatory entry! Baby Gizmo friends don't just stick with "mandatory" though, right? We are overachievers! So, there are additional (optional) entries you can get.  But let us warn you – make sure you actually do the entries! If you click on "leave a blog comment" on the Rafflecopter widget – make sure you actually leave a blog comment. We check! If you don't do the actual entry – it doesn't count! You won't win. We'll both be sad.
* Giveaway STARTS now and ends at 11:59pm EST Friday, May 10, 2013. (US residents only on this one, folks!)
Entry form should be below.
*Disclosure: Thanks to Vitamix for sending us a unit to review. As always, all our thoughts, opinions and comments are our own. In other words, we cannot be bought with a blender!