Butterfinger Fudge Cookie Bars
Butterfingers rank up with with one of the best candy bars in the world! It's peanut buttery, chocolately and crunchy all at the same time. They are good in ice cream, cookies, blondies, cakes or even right out of the wrapper. Here is one of my current favorite ways to eat Butterfingers – in a cookie bar. Yep, peanut butter cookie base, topped with a delicious fudge and loaded up with crushed Butterfingers. It doesn't get any better than that for a Butterfinger-lover, people! 🙂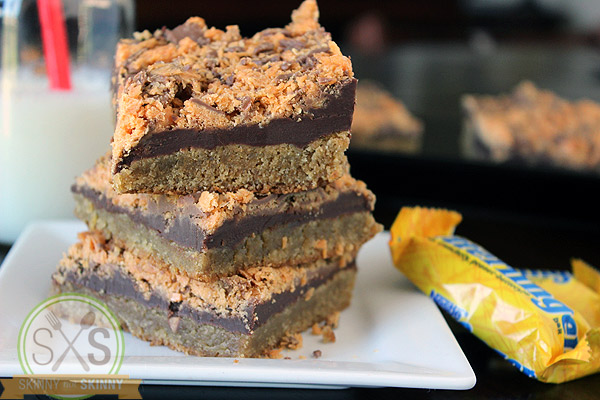 Ingredients:
For the Cookie Base:
3/4 cup butter, softened
1 1/4 cup light brown sugar
1/2 cup creamy peanut butter
1 egg
2 Tbsp milk
1 3/4 cup all purpose flour
1/2 tsp salt
1 tsp baking soda
For the Topping:
12oz semi-sweet chocolate morsels (you can use milk chocolate too but I like semi-sweet!)
14oz can sweetened condensed milk
16 mini Butterfinger bars (the small candy bars – not the Bites)
Preparation:
Preheat oven to 375 degrees.
To make your cookie base, beat butter and brown sugar in mixing bowl until combined. Add peanut butter. Beat in egg and milk. Beat in the flour, salt and baking soda. Press dough into a 15x10x1 baking sheet lined with parchment paper or lightly greased.
Bake in a 375 degree oven for 15-18 minutes. Remove from oven.
Chop your Butterfingers candy bars into pieces. I chop the Butterfingers so that there are still some decent size pieces. I just like it better that way.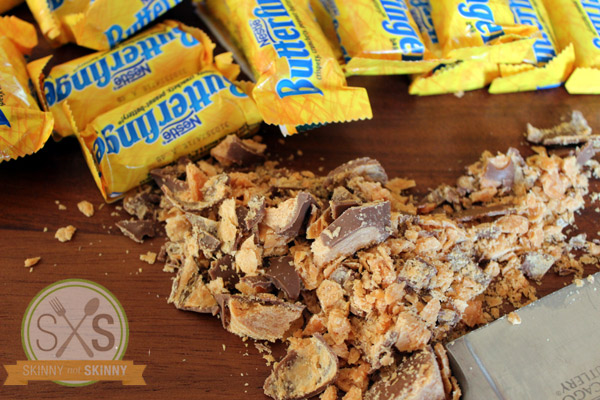 On stove top in small saucepan, heat sweetened condensed milk until warm. Add the chocolate and continue stirring until smooth. Pour fudge over cookie bars.
Top with crushed Butterfingers, pressing them into the fudge lightly.   Allow to cool completely and cut into small bars.