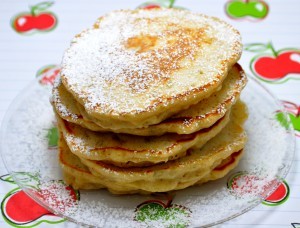 We love pancakes at our house. I used to make pancakes from the premixed boxed kind (yes don't judge!) but they are limited on what type of pancakes you can make, and honestly, can never compare to pancakes made from scratch.
Once you learn how to make homemade pancakes you will realize they are super easy, tastier and less expensive than the premixed box variety. When you make them from scratch you have a million different varieties of pancakes you can make just by adding different items to the batter.
I decided to make apple cinnamon pancakes which were delicious and a big hit with everyone! This recipe tastes like an apple cider donut but in pancake form. Yummy!
I usually make a large batch of the dry ingredients flour, sugar, salt and baking powder and keep it on hand when I need it then just add milk, eggs and vanilla. Some of our favorite pancake add-ins are bananas and chocolate chips, raspberries, strawberries, blueberries, ricotta and lemon.
Ingredients:
2 apples peeled and grated
1-1/4 cups of milk
1-1/2 cups of flour
2 eggs
3 tablespoons of sugar
1 tablespoon of baking powder
1/2 teaspoon of salt
1 teaspoon of vanilla
1 teaspoon of cinnamon
2 tablespoon of butter
Method:
1. Cook grated apples in 1 tablespoon of butter until soft.
2. Combine dry ingredients flour, sugar, salt and baking powder.
3. In another bowl mix milk, eggs, vanilla, and cinnamon
4. Combine all ingredients together including cooked apples.
5. Melt butter cook pancakes 2-3 minutes per side.