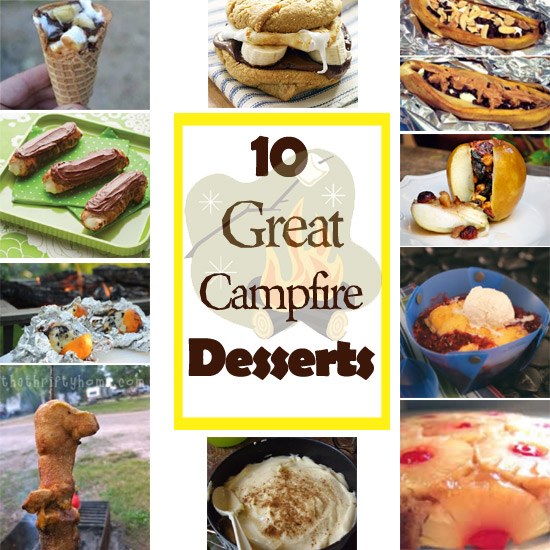 Summer is the one time of year my husband can drag me outside to camp. I try to make the most of the great outdoors by letting my children play in (and eat) dirt while I sit in a collapsible chair and relax. I also use camping as an excuse to eat some sort of decadent, gooey, campfire dessert creation. I have yet to figure out why one would want to sleep outside if S'mores were not involved. This year, I'd like to expand my dessert options with some of these great campfire desserts!
What? Fresh eclairs outside? Are you kidding me? I'd sleep outside for a month if I could have these every night.
My daughter recently discovered the joys of ice cream cones. She would lose her marbles if she knew you could fill them with other goodies like marshmallows!
These work well as a dessert or breakfast while camping. What would make waking up on the cold, hard ground better than knowing you had warm muffins waiting for you?
This makes S'mores look like a lame dessert. (Ok S'mores, if you are reading this I'm sorry and I don't really believe what I just said it's just that it is freakin' Tiramisu that you can make outside. That is insane. Love always, Kate.)
These are easy and I'm always one for getting some fruit in with dessert.
There is something about baked goods while camping that really hits the spot. This combination of cake, fruit, and some extra sugar will leave everyone satisfied.
Cobbler is my go-to dessert recipe when I am at home, so why not enjoy it while camping as well? You can use raspberries as the recipe calls for, or sub in peaches, cherries, or plums.
This barely qualifies as dessert in my book because it is just fruit with a little butter, but it is so good that I'll let the lack of chocolate slide.
This is a lovely combination of warm dough, cinnamon, and sugar. Even young kids will be able to help make it by winding the dough and sprinkling on the topping.
Ok, I couldn't totally ignore the original camping dessert! This one has all new flavors though so it will be like the old classic kicked up a few notches.