Reeses Peanut Butter Cup Brownie Cupcakes
My peanut butter and chocolate obsession continues. A few weeks ago I decided to whip this concotion up. Who doesn't love a peanut butter cookie crust, Reese's Peanut Butter Cup surrounded by moist brownie and a rich peanut butter frosting all in cupcake form? No one, I tell you!  Sure, they are rich, rich, rich but they are deee-licious!

Reeses Peanut Butter Cup Brownie Cupcakes
Cupcake Ingredients:
1 package Nutter Butter cookies
5 Tbsp Butter (melted)
1 Family-Size Brownie Mix (+ ingredients needed for that)
24 Mini Reese's Peanut Butter Cups (unwrapped)
24 Nutter Butter Cookie Halves OR 24 Mini Nutter Butter Cookies OR 24 Reeses Minis Halves
Peanut Butter Frosting Ingredients:
1 stick butter
1 cup creamy peanut butter
4 cups confectioners' sugar
1/3 cup heavy whipping cream
Preparation:
1) Grease 24 cupcake compartments in 2 (or 4 depending on your size pans) cupcake pans. I don't use cupcake liners so that you can see the beautiful crust on these babies! You can use liners if you want though!
2) In a food processor (or however you like to crush things) crush about 24 Nutter Butter Cookies until you have 2 cups of finely crushed Nutter Butter crumbs. Mix the peanut butter cookie crumbs with the 5 Tbsp of melted butter until completely combined.

3) Measure about a tbsp of cookie crust into cupcake pans filling 24 cupcake holes.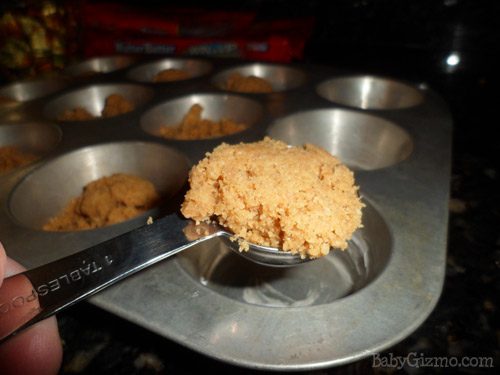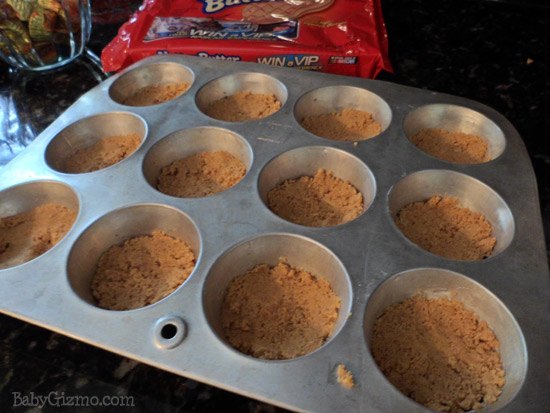 4) Make the brownie mix according to the box.
5) Pour 1 heaping tsp of brownie batter into each cupcake tin on top of the cookie crust. Push 1 Reese's Peanut Butter cup into the brownie batter.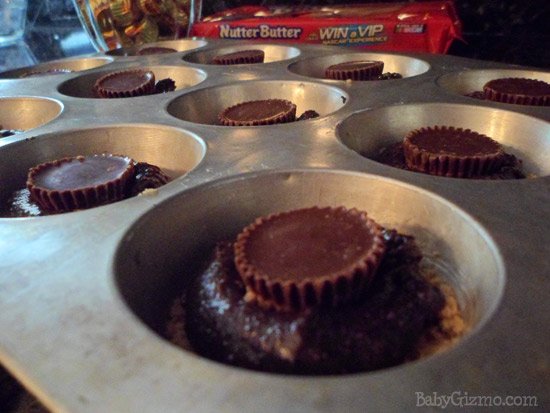 6) Cover the peanut butter cup with a heaping tbps of brownie batter.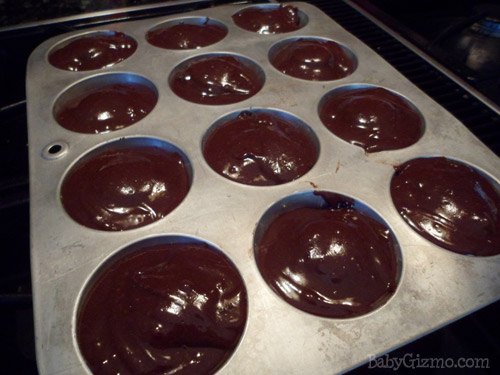 7) Bake at 350 degrees for 22 minutes or until a toothpick comes out almost clean or you can see that the brownies are set.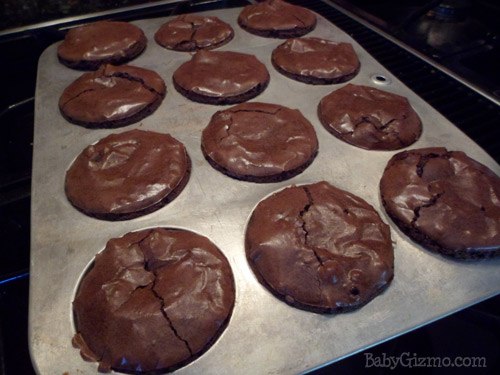 8. Let cool for 10 minutes before carefully removing from pans. Cool cupcakes completely.
9) Make the frosting. In a large bowl, beat butter and peanut butter until light and fluffy. Slowly beat in 1/2 of the confectioner's sugar. Mix in 1/4 cup of the cream. Beat in the remaining confectioners' sugar. If necessary, add a little more cream until the frosting reaches a good spreading consistency.
10) You can ice your cupcakes however you like but I suggest putting the frosting into a pastry bag with a large round tip and frost the cupcakes that way. I used Wilton Tip #12.
11) Stick a Nutter Butter half, a mini Nutter Butter cookie or a Reese Mini half in the frosting of each cupcake to finish it off. That's it. Enjoy.