Berries, Berries Everywhere … 12 Berry Recipes You'll Love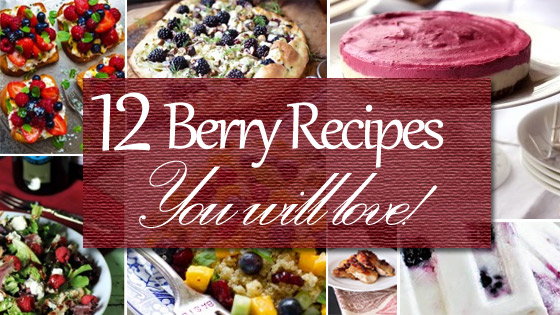 As soon as the berry stand opens a few miles from our home we begin our summer of berry lovin'. First strawberries, then raspberries and marionberries and finally closing out the berry season with blueberries and blackberries. All so delicious! And, truly perfect for every meal – breakfast, midday meals, hearty dinners and of course, dessert! Here's a round up of some of the scrumptious recipes I'm planning to try this summer …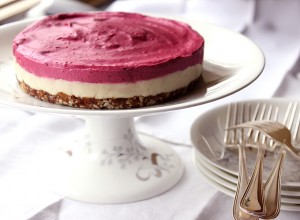 Raw Cashew Dreamcake with Raspberries from My New Roots
And it looks pretty healthy to boot! Well, for a dessert.
Yogurt Ice Pops with Berries from Top Dessert Recipes
Around here we call popsicles, ice cream on a stick … 2 year old logic 🙂
Slow Cooker Berry Cobbler from Chef in Training
I am such a fan of crockpot recipes, therefore this recipe is on the top of my list to make.
Raspberry, Chicken, Feta and Hemp Salad from Noshing with the Nolands
Beautiful salads make me excited to eat my veggies, how about you?
Mango Blueberry Quinoa Salad from Veggie Belly
Speaking of salads, this one with quinoa looks fabulous!
Blackberry Fennel Pizza from Scaling Back
Pizza is so much more than pepperoni, I mean … look at this gorgeous pie!
Chipotle Raspberry Chicken Thighs from Handle the Heat
I used to be a thigh hater, then I discovered how juicy they were – add some chipotle and raspberries and … mmmmm!
Brioche with Passion Fruit, Ricotta and Berries from Food and Travel Magazine
What a divine combination of ingredients!
Frozen Raspberry, Creamy Dreamy Pie from Pop Sugar
Yum! A frozen treat for a warm summer day.
Blueberry Cornbread from Sunset
What an interesting twist – I'm totally going to give it a go!
Tropical Blueberry Smoothie from She Knows
I'm always on the lookout for new ways to blend berries – this looks like a winner!
Berry Salad from Oh Sweet Basil
Pretty sure I could eat this for breakfast, lunch and dinner. Oh. My. Goodness.
Best part about berry recipes, you can usually substitute whatever berries you have on hand so this collection of recipes is perfect all summer long.
Oh, and a bonus recipe I couldn't leave out! A fabulous recipe that came upon recommendation from a friend – canned berry jam and you don't even need a canner!
Post authored by: Gretchen Bossio