Pasta with Mozzarella and Cherry Tomatoes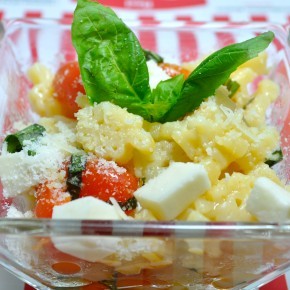 If you are looking for a quick 10 minute meal for the kiddies (shhhhh you may love this recipe too) here it is. Pasta with mozzarella and cherry tomatoes is the recipe for you and the family.
This is my quick go-to lunch/dinner for everyone when I am short on time but need to feed the little and sometimes big people in my life. By the time the pasta is cooked, you are done with the entire meal.
You can add a variety of vegetables or even add grilled chicken if you want. I add cherry tomatoes and bite size pieces of mozzarella for the right addition of vegetables and protein. I hope you enjoy this quick and simple meal. What's your quick go to meal for the family?
Ingredients:
2 cup of kid pasta (or whatever pasta you have)
1 cup of cherry tomatoes cut in half
1/2 cup of bite size mozzarella
1 tablespoon of chopped garlic
1 tablespoon of fresh chopped basil
2 tablespoon of olive oil
Parmesan cheese optional
Method:
1. Boil pasta for 8-10 minutes
2. While pasta cooks, sauté tomatoes with olive oil and garlic for 2 minutes.
3. When pasta is done cooking combine 1/4 cup of pasta water tomatoes, mozzarella cheese and basil in a bowl top with parmesan cheese.