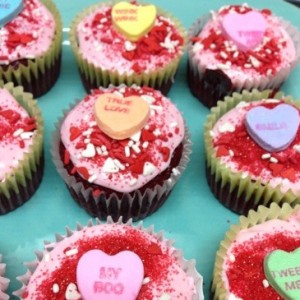 Valentines Day Cupcakes
Delicious and festive cupcakes for February.
For red velvet cupcakes-

Mix butter and sugar then add all the rest of the ingredients and mix just until blended.

Line your cupcake baking tray with cupcake liners and spoon batter into each one.

Bake in a 350 degree oven for 20 minutes.

Let them cool for at least 30 min or until completely cooled before you frost them.

For frosting-

Mix all ingredients well.

Frost cupcakes and decorate to your liking!